Environmental activists, scientists, and government advocates – the finalists for the 2022 Impactful Actions Award are global leaders exemplifying collaboration while making a positive impact on the world around us. The Impactful Actions Award is presented annually and celebrates individuals who inspire collaborative solutions to difficult global problems.
We'd like to introduce this year's finalists (in alphabetical order) and provide three short stories of impact. The winner will be announced on September 14th at the 3rd annual Profound Impact Day.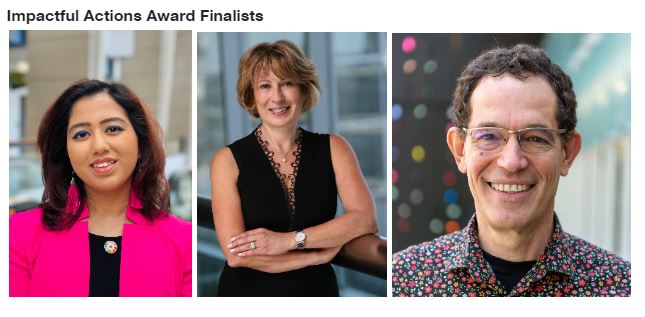 Kehkashan Basu, M.S.M.
Kehkashan Basu, M.S.M., began her commitment to making the world a better place when she was a child.
"When I was seven, I saw an image of a dead bird with its belly full of plastic. That was very disturbing to me," Basu said. "I realized that I had to do something to stop that from happening again."
She planted her first tree at eight years old and founded her own humanitarian organization, the Green Hope Foundation, at the age of 12. The foundation is now celebrating its 10th anniversary.
"I wanted to be able to bridge that lack of inclusivity and really empower those who don't have access to bringing about change in their own spheres of influence," Basu said.
The Green Hope Foundation is a global social enterprise working across 26 countries impacting more than 300,000 people. The group works closely with vulnerable communities, bringing them education for sustainable development, and turning that education into ground-level actions focused on water, sanitation, clean energy and food security. 
"Overall, we're working to create an equal and peaceful society so that we are able to really leave no one behind and ensure a life of dignity for all," Basu said.
Mentorship and collaboration are at the heart of Green Hope Foundation's work. "You can't do this on your own," Basu said. "You need to be able to work with others, share best practices, see where they're succeeding, and learn from that as well. It's really about joining hands to bring our effort together, because at the end of the day, it's our common humanity, it's our common planet."
Basu hopes her work through Green Hope Foundation will continue to inspire people to give back to their community and protect the planet. "We want the Green Hope Foundation to be in every country, ensuring we're able to change the mindsets of those all across society."
The visualization below showcases Basu's past accomplishments and awards:
Dr. Mona Nemer
A leader in providing scientific advice for policy development, Dr. Mona Nemer was named Chief Science Advisor to Prime Minister Justin Trudeau in 2017. In her role, Dr. Nemer helps to ensure that science is taken into consideration in government decision-making.
"Increasing the visibility and understanding of science is an important aspect of the work of my office, as it helps provide people with the tools they need to make good decisions for their lives," Dr. Nemer said.
As Chief Science Advisor, Dr. Nemer is responsible for offering expert advice on key scientific issues. She also assesses how the federal government supports quality scientific research and recommends ways to improve that support. "Science is our best tool for understanding and being able to make predictions about the world," she said.
Prior to taking on the role of Chief Science Advisor, Dr. Nemer was Vice President of Research and Director of the Molecular Genetics and Cardiac Regeneration Laboratory at the University of Ottawa. A leader in molecular cardiology, Dr. Nemer has discovered several genes associated with development and function of the heart. Her research has contributed to further development of diagnostic testing for heart failure and genetic birth defects.
Dr. Nemer has served on multiple national and international advisory committees and boards, including as an Executive Committee Member of the COVID-19 Immunity Task Force. Dr. Nemer put together the COVID-19 expert panel, bringing together researchers and practitioners to provide multidisciplinary advice on aspects of the covid pandemic from infectious disease research and disease modelling to behavioural sciences. The panel helped to bring emerging scientific information about COVID-19 to the Prime Minister and Cabinet in a timely manner to ensure Canada was handling the pandemic in the most effective way possible.
"We saw scientists step up and not only provide advice to governments, but communicate and explain science to the public on a variety of issues," Dr. Nemer said. "That is because there was really no aspect to the health crisis that shouldn't be informed by science."
Dr. Nemer's work has expanded and diversified scientific advice provided to the federal government by establishing a multidisciplinary network of federal scientific advisors. She worked to help create the Interdepartmental Indigenous STEM Cluster to inform and advance Indigenous innovation in natural science stewardship. Dr. Nemer has a strong commitment to educating the next generation of scientists, supervising more than 100 graduate and postgraduate students around the world during her time in academics. Now, as Chief Science Advisor, she continues to help develop young scientific minds through her pan-Canadian youth council, which provides evidence-based input on scientific issues affecting young people.
The visualization below showcases Dr. Nemer's past accomplishments and awards:
Dr. Neil Turok
After spending years as a theoretical physicist, Dr. Neil Turok wanted to do something to give back to his home continent and to the global scientific community. Nearly two decades ago, he was prompted by his father to write up a concept note describing his idea for a new kind of centre for advanced scientific training, in Africa. The note was shared with a range of interested parties and the African Institute for Mathematical Sciences (AIMS) was born. Dr. Turok, now the Higgs Chair of Theoretical Physics at the University of Edinburgh, was a Professor at the University of Cambridge when AIMS' first centre was launched in Cape Town, South Africa.
"As a theoretical physicist and a cosmologist, I don't exactly work on useful things. I work on what happened at the Big Bang and where the universe is going," Dr. Turok said. "Just about the only useful thing I could do was teach people math, computing and related skills."
Students travel from across Africa to take part in the program, where they learn from the best lecturers from around the world. Now, more than 19 years since its inception, AIMS graduates over 350 students at Master's level each year, at centres in Cameroon, Ghana, Rwanda, Senegal and South Africa.
"As soon as we started, we were overwhelmed with the enthusiasm of the students," Dr. Turok said. "They said, 'this is a totally life-changing experience.' And then all of the international lecturers who came to teach them said, 'this is the best teaching experience I've ever had, because suddenly I'm with these super enthusiastic students from many different cultures and backgrounds.'"
Spots at AIMS are fully funded, including travel, medical insurance, accommodation and tuition. Students make meaningful connections with like-minded scientists around the world. Most go on to lecturing positions at African universities or into industry.
"These students come, in general, from very disadvantaged backgrounds. They come to us because they can't afford to pay for a scholarship to go overseas to Europe or the U.S. for further study," Dr. Turok said. "AIMS provides an environment where they can really thrive."
Dr. Turok said AIMS plans to create five more centres in the next 10 years, scaling up its postgraduate training and research as well as teacher training and STEM high school programs. Dr. Turok predicts a wave of highly motivated young African scientists entering and positively impacting global science.
The visualization below showcases Dr. Turok's past accomplishments and awards:
Do you have an impact story to share? Let us know at connections@profoundimpact.com for a chance to be featured in an upcoming newsletter!