Young Leaders Finalists
Leigh Zachary Bursey
Leigh Zachary Bursey is an activist, journalist, former three-term municipal politician, singer-songwriter, recording artist, writer and champion for the homeless. He has a long history of tackling challenging social topics including homelessness, mental health, harm reduction and allied support for the LGBTQIA community. While serving as a city councillor for Brockville, Ontario, he came out as a suicide attempt survivor and an advocate for the federally tabled National Suicide Prevention Strategy private member's bill.
Leigh has worked in youth homelessness shelters and adult warming centres, advocating for naloxone training and increased harm reduction supports and has been a strong advocate for increased public transit hours and operating funds for local libraries. He focuses his speaking, research and journalism on amplifying marginalized people and sharing their ideas for change and resolutions to community challenges. Through his work, he has amplified these voices by helping them deliver meaningful messages and by challenging stigmas.
Hui Huang Hoe
Hui Huang Hoe is a serial inventor in green electrochemistry. He founded elerGreen, a cleantech start-up that recovers valuable polymers, metals and chemicals from chemical waste. elerGreen places an emphasis on giving back to the society through mentorship of student entrepreneurs in Venture for Canada (VFC) Intrapreneurship projects. elerGreen exposes students to diversity, equity, inclusion and corporate social responsibility through these projects and by hiring visible minorities, people with disabilities, youth, newcomers to Canada and survivors of violence and the criminal justice system.
Hui Huang encourages youth entrepreneurship by coaching students in Venture for Canada. He has also published a free book, Mathematica Particularis, written to complement the syllabus of engineering mathematics, particularly for B.A.Sc. in Chemical Engineering at the University of Toronto.
Tabatha Laverty
Tabatha Laverty is an acclaimed non-profit leader and award-winning marketer with a passion for workplace equity and inclusion. As VP of Marketing and External Relations at the Accelerator Centre, she has been instrumental in leading the organization in rebranding and cementing the centre's status as a global innovation ecosystem leader.
Through Tabatha's leadership, the Accelerator Centre has made significant progress in its mission to create a more inclusive and equitable innovation ecosystem. After only one year of work under the action plan, the centre has nearly achieved its objective of gender parity and 30% representation from traditionally underrepresented groups across its stakeholder groups. This includes the Accelerator Centre's board, mentorship team, staff, and the founders. In addition, the centre's most recent program launch boasts over 63% of its participants being women-led businesses, 26% being led by newcomers to Canada and 5% by indigenous entrepreneurs.
Tabatha was instrumental in developing the Accelerator Centre's cleantech incubation program, a first for Waterloo Region. In 2020, the programming was expanded to support all entrepreneurs working on solutions that support the achievement of the UN Sustainable Development Goals, adding resources for med-tech, ed-tech, smart city and social innovation-focused start-ups, supporting nearly 100 start-ups.
You can see more from the Young Leaders and their impact below: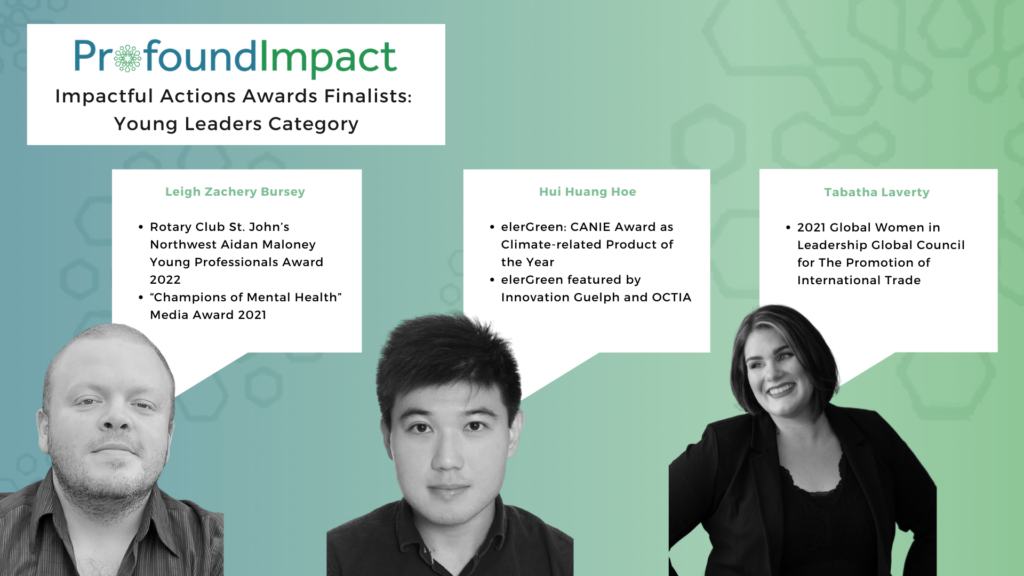 Lifetime Achievement Finalists
Mike Farwell
Mike Farwell is a relentless community builder who turned his grief of losing two sisters to cystic fibrosis (CF) into the largest annual fundraiser for Cystic Fibrosis Canada, raising over $1.25m of unrestricted funds supporting research, advocacy, and clinical care for Canadians living with CF.
Between his day job at CityNews 570, his night job calling games for the Kitchener Rangers junior hockey team and his philanthropic work with organizations across Waterloo Region, Mike Farwell's name and voice are synonymous with leadership in the Waterloo Region. In 2014, he began the Farwell4Hire fundraising campaign, which has raised more than $1.25m for research to find a cure for cystic fibrosis. After many years of soliciting donations, Mike thought it was time for a different approach and offered to do work in exchange for donations. From weeding gardens to washing windows, Farwell4Hire has raised $1.25m since its launch, allowing CF Canada to bring a new transformational drug (Trikafta) to be widely adopted across Canada in 2022. Trikafta is considered the single greatest innovation in the history of cystic fibrosis, treating 90% of Canadians with CF by addressing the causes instead of managing the symptoms and potentially preventing irreversible damage caused by this progressive disease. It is now publicly available and insurable to all CF patients in Canada six years of age and older, with advocacy in place for younger patients.
For his tireless efforts on this annual fundraising campaign, and his genuine support of building community through his talk radio show, Mike is a true example of one person making a huge impact on the lives of many.
Lynn Smith
As a proud member of Peavine Métis Settlement, Lynn Smith is leading her northern community through a significant change to take control of monitoring the impact of climate change on their land and waterways. Through compassion, perseverance, engagement, and collaboration, she is guiding her community on the path to being able to once again drink the water from their rivers and streams; an act not experienced since her own childhood because of pollution. She is doing this by enabling her community to achieve data sovereignty, and building knowledge in her community so that they can better hold Industry and all levels of Government accountable for their actions that impact Indigenous lands.
Lynn's exemplary leadership has created a program of environmental monitoring that delivers real benefits to her community. Her mentorship model has built a team of community-based Environmental Monitors and Data Technicians whose skills and talent are retained in the community for the benefit of the community. At the same time, Lynn practices inclusion in how she shares her knowledge and learnings with other Indigenous communities suffering from similar environmental challenges. She is doing this by showing the way for communities to build competencies in their consultation teams to autonomously monitor their land, generate and interpret data, and enact management programs. Lynn is also a builder of inclusivity, partnering with scientists outside of her community, teaching indigenous ways of knowing, and sharing Western-based methods of doing science with professionals who have participated in creating environmental monitoring programs in her community and beyond.
Lynn has been recognized for her achievements by being asked to represent her community on the Board of Directors of the Lesser Slave Lake Watershed Council, which works to improve and maintain a healthy watershed through education, planning and implementation of shared initiatives in support of communities and ecosystems throughout the region.
Stephanie Thompson
Stephanie Thompson is a passionate engineer and community leader who actively pursues new and innovative ways of promoting science, technology and learning in the Niagara Region. "Be a ladder, be a lamp or be a lifeboat" is Stephanie's motto, which she uses to inspire the women in Niagara and online.
In 2018, Stephanie launched her social enterprise, STEM by Steph, developed on the notion that the lack of female role models prevents girls from considering careers in the trades and in STEM fields. Following the principle that STEM is best tackled by connecting women with knowledge with those who need support in breaking barriers, the organization offers STEMbySteph, a frequently sold-out social event in the Niagara Region where Stephanie and other women teach mothers and their daughters about STEM subjects in a laughter-filled atmosphere focused on camaraderie.
Stephanie holds a Bachelor of Applied Science in Chemical Engineering, a Certificate of Professional Management from Brock University, and is a Professional Engineer in Ontario.
You can see more from the Lifetime Achievement finalists here: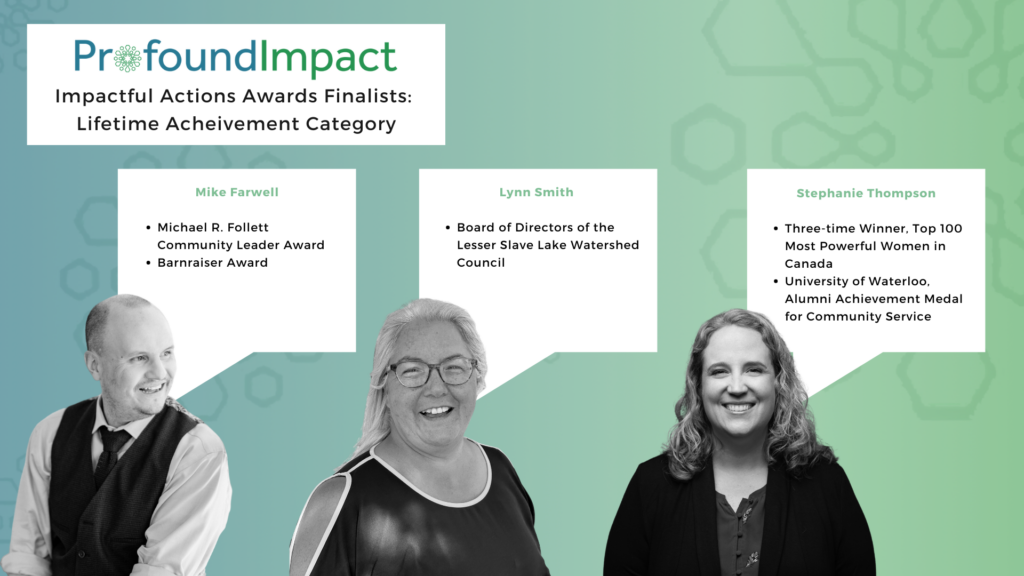 Do you have an impact story to share? Let us know at connections@profoundimpact.com for a chance to be featured in an upcoming newsletter!