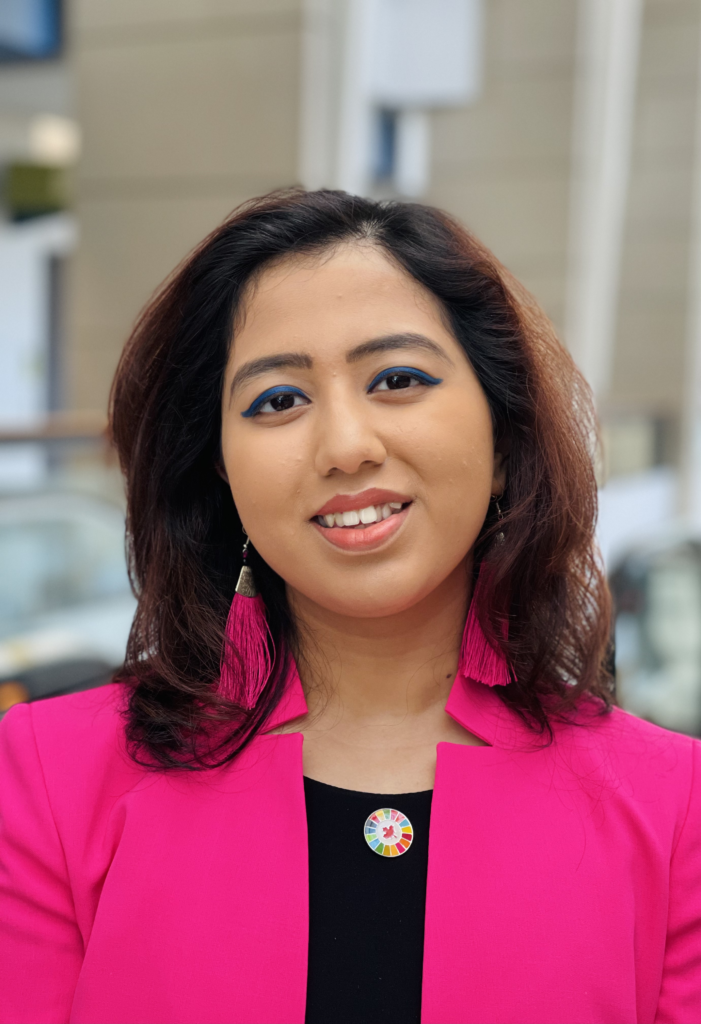 Founder/President, Green Hope Foundation
A humanitarian with a passion for empowering vulnerable communities, Kehkashan Basu, M.S.M., founded her own charitable organization at the age of 12 in Toronto, Ontario. Now, 10 years later, Green Hope Foundation works across 26 countries, helping more than 300,000 vulnerable women and girls live in a world where all voices are valued. Basu believes that every child has the right to education regardless of their gender, to a clean environment, and the freedom to decide their own destiny.
"I started at a time when advocacy for sustainable development didn't involve the people who should be included in the process," Basu said. "I really wanted to change that. Green Hope Foundation came about to address this lack of inclusivity. Over the last decade, working with my team on the ground, as well as engaging with those at the highest levels of policymaking, we've really seen our impact grow."
Basu said Green Hope Foundation is focused on three pillars: sustainability, society and environment. They follow an intersectional approach, recognizing all three pillars in their work.
"The first actions we really took were with education for sustainable development, reaching out to schools and trying to get children involved," Basu said. "We also got involved in ground level actions, like tree planting and conducting clean ups."
Basu started her advocacy journey by planting a tree on her eighth birthday, which falls on June 5: World Environment Day. The United Nations noticed her work and invited Basu to speak at one of the largest sustainable development conferences at the time, Rio+20, in 2012.
"I grew up seeing my parents giving back to people and the planet their whole lives," Basu said. "I thought everyone was doing something good for the environment and for their community. But, slowly and steadily, I realized there were a lot of other inequities in our world. There was a tremendous lack of inclusivity of children and women in achieving a sustainable world."
Green Hope Foundation has seen a tremendous amount of growth since it began a decade ago. The group has planted 950,000 trees so far and hopes to hit 1 million by the end of the year.
"We are learning and growing every single day," Basu said. "We understand that our work can really never stop. Even if we do achieve a sustainable world, we have to do something to maintain that."
In 2015, Green Hope Foundation installed solar panels to an area in western India with no access to electricity. The panels are still in use today, and have helped the area thrive.
"We have an energy system that enables farming, we have a full solar grid for their schools," Basu said. "The children, and the girls specifically, are getting lessons in STEM in a solar-powered computer lab."
The organization plans to continue expanding into the future, upscaling current projects and thinking of new ways to engage. "We want to continue to educate the younger generation about why it's important to care for the community and the planet," Basu said.
Basu received her undergraduate degree at the University of Toronto, majoring in environmental studies and minoring in women and gender studies and physical and environmental geography. "Those subjects were a no-brainer for me," she said. "I wanted to get a degree in something that I was passionate about." Now, Basu is in her first year of her MBA at Cornell University. By specializing in business, she hopes to engage the private sector in the work of Green Hope Foundation in the future.
Last month, Basu was named the winner of the 2022 Impactful Actions Award, an annual award presented by Profound Impact™ Corporation to recognize individuals who are inspiring collaborative solutions to difficult global problems.
"It's a huge honour," Basu said. "I really like that it's focused on impact, because it's a motivation for me to continue to do more, create more impact and inspire others."
You can see highlights of Basu's education and accomplishments in the visualizations below:
You can see highlights of the work of Green Hope Foundation in the visualizations below:
Do you have an impact story to share? Let us know at connections@profoundimpact.com for a chance to be featured in an upcoming newsletter!