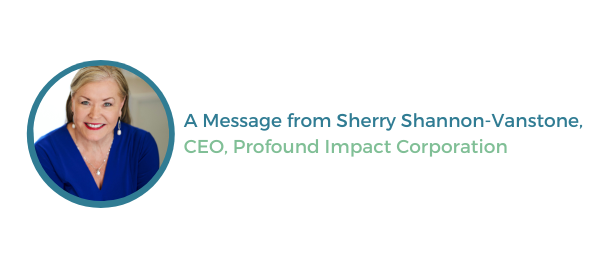 June has been an exciting and busy month for Profound Impact!
I am thrilled and grateful to welcome a group of female investors, including many who are first-time investors, into our network as part of our latest funding round. Women need opportunities to invest and grow their portfolios, and I'm proud that so many made the decision to make their first-time investment in Profound Impact, sending a clear message of confidence in the company's vision and the team's leadership!
We are also pleased to announce the launch of Profound Impact's inaugural Board of Directors, composed of distinguished business leaders with a wealth of skills and diverse backgrounds. Joining me, as founder, president and CEO of Profound Impact, this experienced board, which will help guide the company toward its next phase of growth and success, includes:
Board Chair – Deborah Rosati, FCPA, FCA, ICD.D, GCB.D, CCB.D: An award-winning corporate director and entrepreneur and founder of Women Get On Board.
Board Director – Sharon Castelino, MBA, LLM, ICD.D: An award-winning financial services executive and corporate director with three decades of experience in multiple sectors and across global jurisdictions.
Corporate Secretary – Kasia Malz, CPA, CA, MAcc.: In addition to her role as CFO, Kasia will serve as corporate secretary for the board of directors.
We were excited to present and demonstrate our Research Impact product at Collision in Toronto from June 26 to 29. As this conference brings together global technology leaders and companies, high-potential start-ups and top journalists to participate in more than 20 content tracks, Collision was the ideal venue for showcasing Research Impact's capacity to serve as a matchmaker for collaborators and researchers to connect with industry partners and government granting agencies. In addition to demonstrations in our booth, I was pleased to present the benefits of Research Impact along with Deloitte partner Jigna Shah on the AWS StartUp Loft Theatre stage. You can learn more about Research Impact and our participation in Collision in this newsletter.
This month's Impact Story profiles Shann McGrail, Chief Executive Officer of the Haltech Regional Innovation Centre. You'll learn how Shann uses both her extensive experience in the technology sector and her improv skills to lead Haltech in its mission to serve as a strategic connector and educator for start-ups in Halton and across Ontario.
Finally, we have received impressive nominations for the Impactful Action Awards. Thanks to all who let us know about incredible people around the world making a great impact!
Thank you for connecting with us and the Profound Impact community!
Sherry Shannon-Vanstone