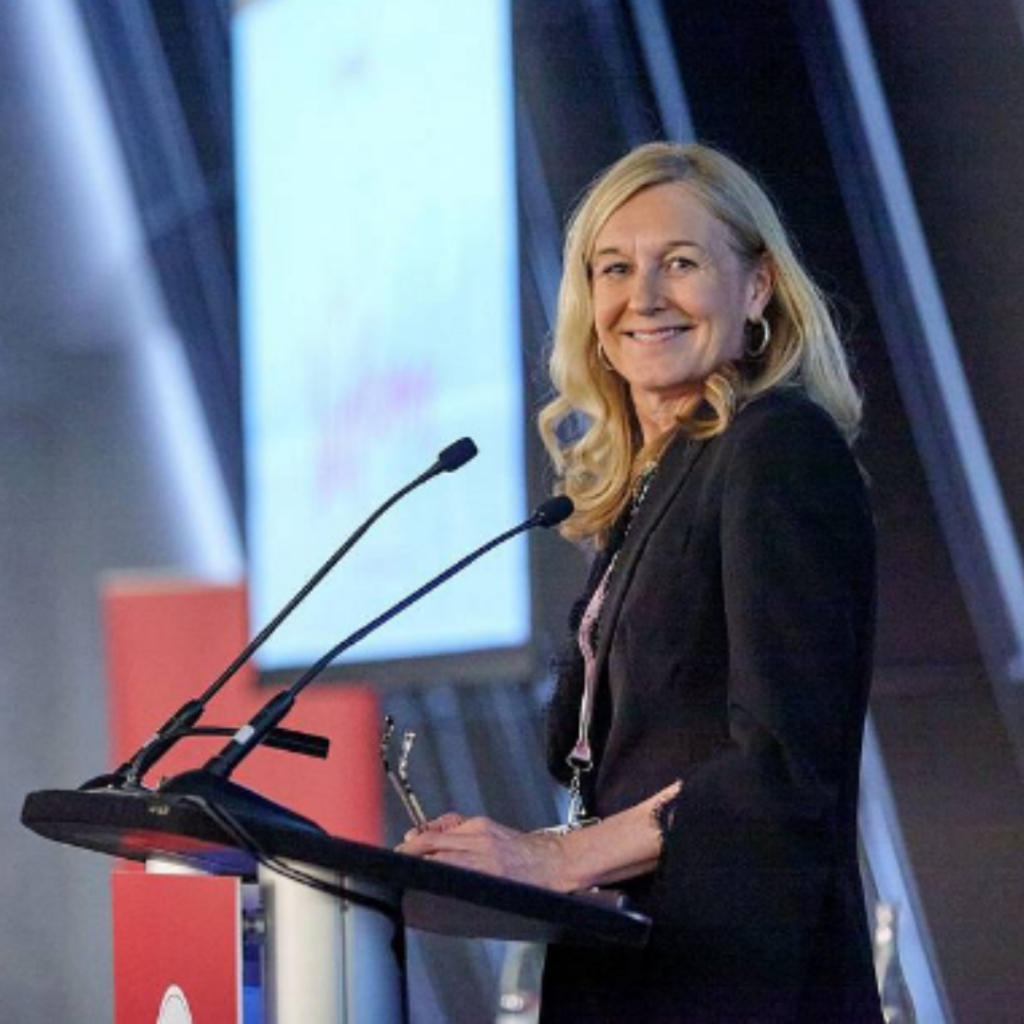 Fellow Chartered Professional Accountant
Women Get on Board
Deborah Rosati always knew that she wanted to follow in her father's footsteps by pursuing a career in business. "He immigrated to Canada from Holland at age 14, and was placed in a grade one class. My father built his life in Canada and his business from the ground up," she says. "My parents taught me that I could do whatever I wanted. And I've always had a deep love for business."
Deborah's focus on a career in business attracted her to the co-op accounting program at Brock University's Goodman School of Business. By her mid-twenties, thanks to co-op work term experience, Deborah had developed the skills that led to corporate roles ranging from controller to CFO. The appeal of emerging technologies and her inclination to entrepreneurship drew her to new roles as company co-founder and partner. It was during this phase of her work that she found herself to be one of only a few female partners or board members.
The lack of women at the board table and the absence of women mentors motivated Deborah to found Women Get On Board (WGOB) in 2015. In the ensuing 8 years, Deborah and her team have grown this member-based, social purpose company to more than 850 members. Collaborations with corporate sponsors have resulted in programs that have helped more than 300 women prepare and effectively engage on corporate, public sector and not-for-profit boards. These programs include:
WGOB Mentorship Program, which matches aspiring women corporate directors with accomplished leading and serving women corporate directors to elevate their board effectiveness and advance their board journey to a corporate board seat.
WGOB Financial Intelligence in the Boardroom Program, designed to empower women with practical insights and tools to enhance their financial intelligence in the boardroom. This unique online program offers practical and hands-on support in a combination of micro-learning, virtually facilitated by financial experts.
WGOB has also worked with corporate partners to celebrate the accomplishments of women. WGOB created the BMO Celebrating Women on Boards in 2020 to annually recognize 5 women across Canada who excel in and out of the boardroom. In 2022, WGOB announced KPMG Canada as its first EMPOWER Partner to connect, promote and empower women to lead and serve on boards through events and thought leadership.
In addition to her work on WGOB, Deborah is actively engaged with the wider corporate governance community through frequent speaking engagements, panel discussions, podcasts, and authoring articles and e-books How to Get Yourself on a Board and Elevating Your Board Effectiveness, to share her expertise and thought leadership..
Deborah has been recognized through numerous nominations and awards including The SustainabilityX Magazine's inaugural Global 50 Women in Sustainability Award in 2022. In 2021, she was recognized as one of the Women's Executive Networks Top 100 Canada's Most Powerful Women in the Entrepreneur award category. Deborah has also been honoured as a 2020 Director to Watch and a 2014 Diversity 50 candidate. And in 2012, Deborah was selected as one of WXN's Top 100 Canada's Most Powerful Women in the Corporate Director award category.
Deborah's career and WGOB are guided by the same principles:
Be authentic;
Be passionate in everything we do;
Be engaged and take initiative; and
Be communicative beyond expectation.
Recognized for her success as a successful businesswoman, entrepreneur, corporate director, speaker and supporter of women in the boardroom, Deborah Rosati is a powerful role model and mentor. Her advice to women in business? "Be fearless and never doubt yourself. Lean in and learn up – because knowledge is power."
You can see more of Deborah's impact in the visualizations below: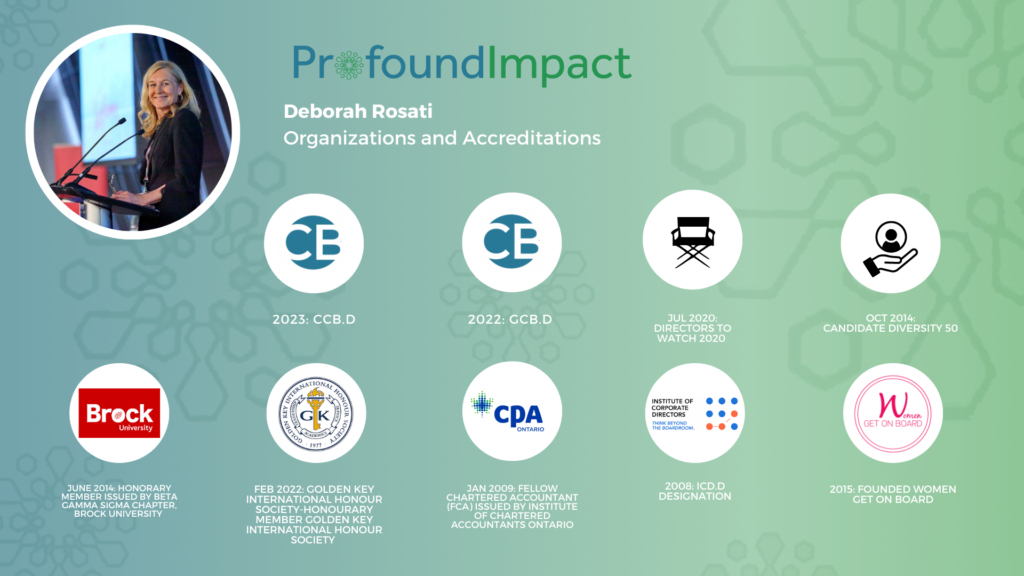 Do you have an Impact Story to share? Reach out to us at connections@profoundimpact.com for a chance to have your story featured in an upcoming newsletter!