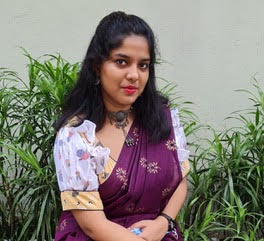 At only 18 years of age, Adrija Jana has been recognized, both internationally and in her home country of India, as an award-winning poet, spoken word artist, filmmaker and creative researcher. Despite these honours, Adrija doesn't just think of herself as a creative artist but also as an activist whose art effectively protests against social injustices including domestic abuse, period poverty and education inequity. Adrija has channeled her creativity and energy to raise awareness about these issues and to empower others to speak out.
As a high school student at Mahadevi World Academy in Kolkata, India, Adrija served as a peer mentor for junior students while winning awards for her academic standing. She also taught creative and performing arts to disadvantaged children and mentored refugee children through her work with various NGOs.
Adrija has been involved in period poverty activism through her work at the Period Society, a youth-led non-profit which aims to improve menstrual and reproductive health. As a fellow at Civics Innovator fellowship at Civics Unplugged, she developed a case brief on the problem of menstrual stigma and period poverty in India. In addition to defining and analyzing the issues, Adrija recommended a two-pronged approach to be taken by the government for subsidy of period products and access to products in schools.
Adrija's activism isn't limited to issues in her home country. She has participated as a UN Model Delegate in more than 20 conferences and has led research projects about the effect of Covid-19 on education and on the opioid crisis in Arizona in her role as a research fellow in the 2020 and 2021 cohorts of Harvard Innovation Labs International Socioeconomics Laboratory.
A prolific writer, Adrija is inspired by her favourite contemporary poet of color, Nayyirah Waheed, and novelist Margaret Mitchell. She was inspired to write her first poem while in Grade 3 and reading about India's nationalist movement for independence. The theme of gender equality runs through Adrija's work – she recently published a paper on the Representation of Women in Literature to explore the role that literature plays in the portrayal of women's social standing during the time they are written.
In addition to her research and poetry, Adrija creates documentaries that tell the inspiring stories of people who wouldn't otherwise have a platform. Her films, including poetry documentaries, have been screened internationally to wide acclaim.
Adrija credits her mother as her biggest inspiration. "Her entire journey inspires me. She got married at a very young age, had me and my siblings, and was compelled to devote herself entirely to family life. She had to make great sacrifices, but never for once did she break down or give up. After we grew up, she started her own business to become self-reliant. After the national movement, it was her struggles that I expressed through my poetry. She is a living example of the heights one can scale if they persist."
As Adrija is honoured for her work as an activist, poet and researcher, both in India and internationally, she is currently in her first year at University of Delhi, where she is studying English literature. Her goal is to pursue a PhD, in either the UK or the US, and to work as a researcher and professor while continuing her role as an activist. "This has become a very core part of me. I definitely see myself advocating for the issues I care about and to help communicate the voices of people who are normally ignored," she said.
An exceptional young woman, Adrija has made great impact as a poet, researcher, social activist, artist and active citizen. When asked what advice she would give a young person who would like to get involved in issues as she does, Adrija says: "This is not something that is very easy to do. It may be easy to start something, but continuing with it will come with obstacles. If you are doing something that is considered revolutionary by traditional conventions, there will be backlashes. For example, in response to my poetry against marital rape and period poverty, I have received rape and death threats and other forms of cyber harassment. But you cannot let that deter you. All that matters is how determined you are. If you really believe something with all your heart, you should never let go of it."
You can see more about Adrija's impact in the visualizations below.
Do you have an Impact Story to share? Reach out to us at connections@profoundimpact.com for a chance to have your story featured in an upcoming newsletter!