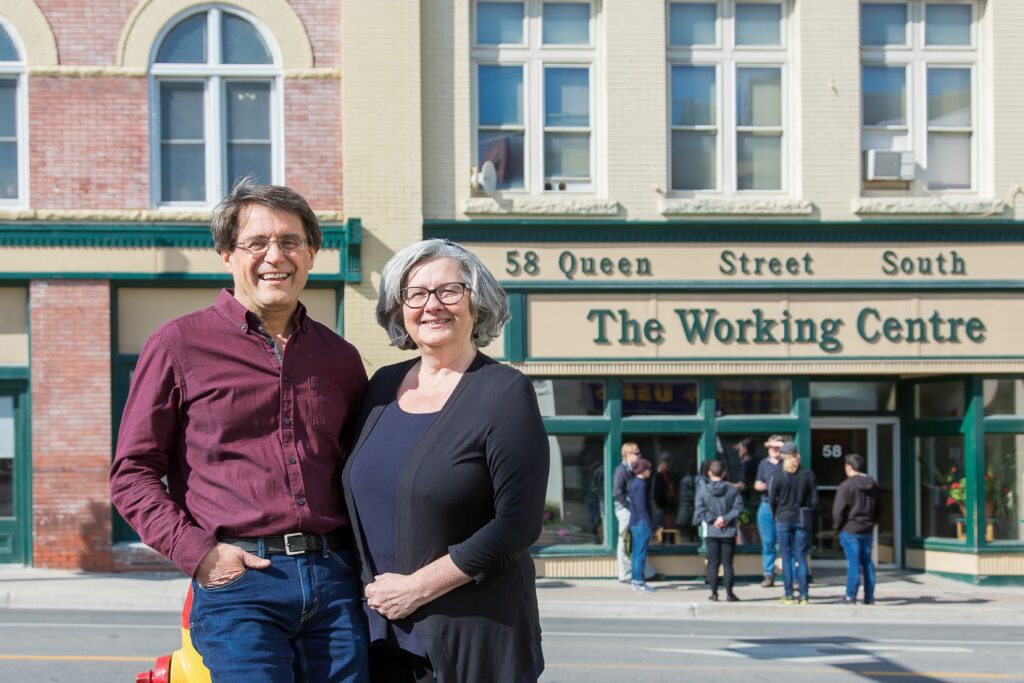 Founders, The Working Centre
When they graduated from St. Jerome's University 40 years ago, during a global and local recession, Stephanie and Joe Mancini wanted to build a culture of service and a place of hospitality for people who were left out of work. They opened the Working Centre in downtown Kitchener in 1982 to offer career and job assistance. Although times have changed, their mission hasn't. It has only expanded to meet the needs of the community.
Joe and Stephanie met as high school students in their hometown of Hamilton. Joe was inspired by a presentation at his church about building windmills in Tanzania by a mission group called CPPS Mission Projects, a group of priests and brothers from Toronto seeking to involve young students in global relief work. It was not long before Joe and Stephanie joined CPPS and the next summer they were in central Tanzania villages to build windmills for clean water in villages. When they returned to Canada, Joe enrolled at Resurrection College at St. Jerome's University to study philosophy and history in a priest formation program while Stephanie studied Religious Studies and English at McMaster University. Within months, they directed their time and efforts toward learning about international development and supporting the Tanzania project through fundraising and public education. Together, they realized that they could build upon their informed sense of social justice, and this has been at the core of the Mancini's work over four decades.
As university students, Stephanie and Joe continued the international development work they started in Tanzania through their active involvement in the Global Community Centre, where they gained valuable experience in community building, and a growing commitment to learn about the community. When they graduated in 1982, already married, their focus turned from global to local issues as hundreds of people were affected by layoffs at Budd Automotive and Lear Canada. The Working Centre took shape as a place to learn about the meaning and structure of work by supporting the unemployed. Soon, St. John's Kitchen opened to provide a place of community, to help those with food insecurity to prepare a daily meal and share it together, and to provide access to a range of supports and resources.
COVID-19 has exposed the growing homeless situation in Waterloo Region. The Working Centre sprang into action and, working with the Region of Waterloo, added 230 shelter and interim housing beds through three different projects.  As well, St. John's Kitchen has become as vital as ever, providing daily shelter, access to meals, laundry, and washroom facilities. Over 400 people a day use the different services of St. John's Kitchen. 
The Working Centre has consistently produced substantial results for the community in creative ways. Over the past ten years, the centre's 100 – 120 workers have:
·         Built Community Tool projects like Recycle Cycles Community Bike Shop, Queen Street Commons Café, the Market Garden, Worth A Second Look Thrift Store and Computer Recycling that have created sustainable social enterprises that offer great pricing, opportunities for work, and building community.  
·         Created the Job Resource Centre, the most practical, helpful, and hospitable employment resource centre in the region, with a 95% positivity rate provided by users surveyed. Ten weekly volunteers assist 3,000 workers each year, with approximately 1,000 workers achieving 85% success in jobs or training and the remaining 2,000 making use of the resource centre in practical ways. 
· Employed up to 40 people on a weekly basis in Job Cafe projects.
·         Served 250 – 300 meals each day at St. John's Kitchen, from Monday to Friday.  St. John's Kitchen also provides public washrooms, showers, laundry, and food distribution. 
·         Established a medical clinic that operates three days per week, serves 300 people each year, and is staffed by one nurse, a full-time doctor, and a nurse practitioner.  In addition to the medical clinic, a Specialized Outreach Team, staffed by two teams, each consisting of a nurse and social worker, serve an additional 450 per year each year.  Finally, three downtown street outreach working with a team of 100 weekly volunteers, each working with a caseload of 250 per year.   
· Provided 70 people with housing in 30 apartments and three houses. A quarter of these units have housed chronically homeless individuals.
·         Established a Hospitality House to serve six homeless men with acute illnesses. 
· Built and furnished Community Dental, a clinic staffed by volunteer dentists and seven weekly volunteers that supported about 200 people over its first three years of operation.
As COVID-19 exacerbated inequities within the community and as the rate of homelessness continued to rise in Waterloo Region, the most vulnerable bore the greatest burdens. Joe and Stephanie Mancini did not shrink from this challenge – they stepped up to serve the community.  "Our work during the pandemic has been hard and deep, relentless and beautiful as we have stood with people who are left out in so many ways – of housing, indoor spaces, bathrooms, safety, and work," says Stephanie. 
Joe and Stephanie Mancini have noticed a change in people's understanding of work and the desire to be more impactful. In 2020/21, during the COVID shutdowns, the Working Centre trained 55 new employees who had lost jobs in hospitality, health care, and manufacturing to learn shelter work. This new kind of work is all about bringing your mind, heart, and action into your work every day, which can be hard. It is also where real and meaningful work happens.
The Working Centre has been built and is grounded on the notion of learning about, understanding, and bringing ethics into social issues. The centre has operated with the goals of:
· Offering sustainable, reliable resources that are agile and responsive to change;
· Building structures without overdeveloping those structures, and
· Understanding and fostering local democracy in our community
These goals continue to inform the work that Stephanie and Joe Mancini and their teams do every day. Through trial and error, the Working Centre has built a grassroots organizational model that integrates the stability of the systems-world with the continual change and unpredictability of the life-world.
The Working Centre has provided the opportunity for approximately 500 University of Waterloo and Wilfrid Laurier University (WLU) undergraduate students to study at their facilities over the past twelve years. Courses offered through Professor Ken Westhues from the University of Waterloo and the Community Engagement Option at WLU have incorporated meaningful discussion and coursework on The Working Centre's philosophy and approach. When full-time undergraduates travel by bus or car to downtown Kitchener for one of their courses, it is an experience far beyond the realm of academic theory. While courses at the Working Centre don't differ from those on campus in terms of readings and assignments required, the atmosphere is vastly different. Students receive first-hand experience with the programs of social development provided by the Working Centre while learning about the network of businesses, government agencies, and voluntary associations that form the fabric of Kitchener-Waterloo as a city and community.
Stephanie and Joe Mancini's work has been greatly influenced by their personal experience in international development, their education at St. Jerome's University, and the work of social justice activists like Dorothy Day, Ivan Illich, and Dom Hélder Câmara.  Their work in establishing, developing, and running the Working Centre and bridging academia with the community serves as a grassroots organizational model that integrates the stability of the systems-world with the continual change and unpredictability of the life-world. These practices have been central in the profound impact the Mancinis have made in offering vital resources for four decades.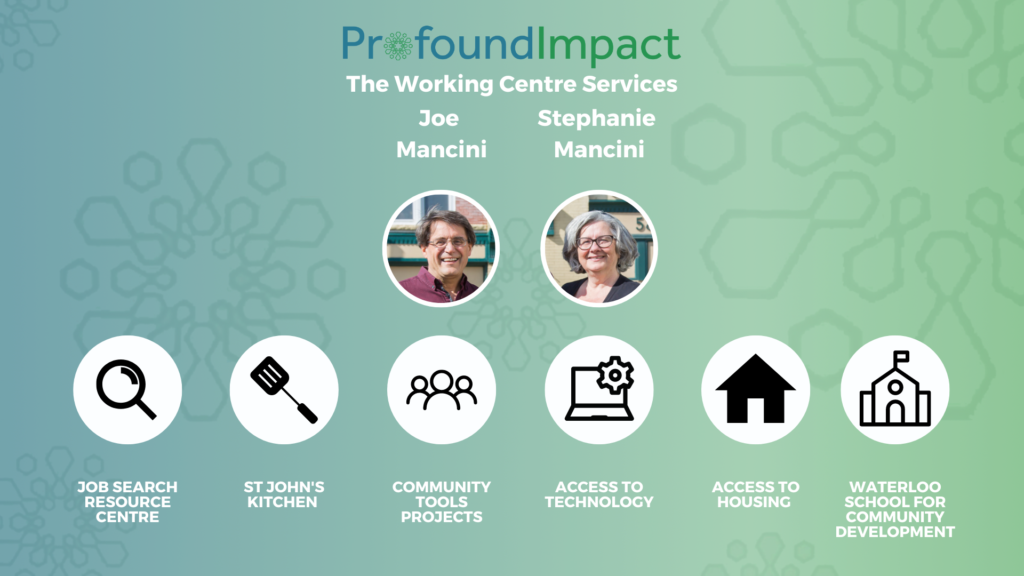 Do you have an impact story to share? Let us know at connections@profoundimpact.com for a chance to be featured in an upcoming newsletter!