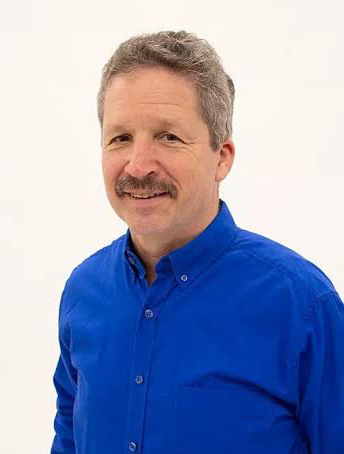 CEO of Danby Products
Do the right thing. That's the imperative that drives Jim Estil—in everything business, in community service and in humanitarian work.
Jim has been President and CEO of home appliance manufacturer Danby Products in Guelph, Ontario since 2015. His focus on doing the right thing is reflected in Danby's operating values, where ethical working conditions throughout the supply chain, diversity and inclusion, sustainability and philanthropy are at the heart of the company's culture. And Jim has found that this way of doing business results in greater engagement by employees and attracts new staff. "People want to work for a company that does social good."
Encouraged by his father to study engineering, Jim graduated from the Systems Design Engineering program at the University of Waterloo in 1980. He had developed an interest in computing and technology and was more interested in a career in business. "I would have made a terrible engineer!", he claims. He started his first company, EMJ Data Systems, while in his final year of university. When the company was sold in 2005, it had grown from one where he sold hardware and software from the trunk of his car to a publicly traded corporation on the Toronto Stock Exchange with a staff of over 300 and $350 million in annual sales.
Jim's business success led to roles as a founding board member of Research in Motion/BlackBerry in 1997 and a founding member of Communitech, an innovation hub that helps tech companies start, grow and succeed. As an early-stage technology investor, he has worked with more than 150 start-up companies. And Jim shared his perspectives on leadership and time management in his two books Time Leadership – Lessons from a CEO and Zero to $2 Billion: The Marketing and Branding Story Behind the Growth.
Beyond his success as an entrepreneur and investor, Jim is perhaps best known as a humanitarian. In 2015, he personally sponsored the resettling of 50 Syrian refugee families in Canada and, as CEO of Danby, set up a community network of hundreds of volunteers in Guelph to sponsor hundreds of people from countries around the world. Danby's latest venture in this area is the Circle Home Furniture Bank, an ongoing resource to help provide furniture and housewares for newcomer families from Afghanistan, Ukraine and Syria as they establish their homes in Guelph and neighbouring communities. Through the work of local volunteers, community organizations and the federal government, Danby's refugee sponsorship program has helped settle hundreds of newcomer families, helping them find and furnish homes, secure employment, and start their new lives in and around Guelph. "People are grateful to help and to be part of the better, bigger good," notes Jim of the massive community effort of more than 800 volunteers that donated their time and resources to help people from around the world start a new life in Canada.
Jim has long been concerned about environmental issues. He started a recycling program in his university residence, has installed solar panels on his roof and invests in alternative energy. "I'm worried about climate change and the social upheaval it will cause as people will be forced to leave their homes." This concern Is reflected in Danby's focus on sustainability and the company's goal to work toward a more sustainable future. The company refurnishes units as "Danby Certified" to help to reduce the amount of waste sent to landfills and to lower greenhouse gas production at their manufacturing plants.
Thanks to Jim's leadership, and Danby's ongoing commitment to do the right thing, the company continues to work to make the world better by supporting women's shelters, programs for youth and for people experiencing homelessness. In recognition of his work, Jim was named to the Order of Ontario and the Order of Canada, received an Honorary Doctorate of Laws from the University of Guelph and an Everyday Heroes Award from the Global Hope Coalition. Despite the awards, he says "I'm a normal guy, trying to do my part." And Jim hopes that Danby's commitment to a corporate culture of philanthropy, volunteerism and servant leadership can serve as a model for much larger companies across Canada and internationally. "Everybody can do their part by taking on something that's the right size for them to do their version of good."
You can see more of Jim's impact in the visualizations below.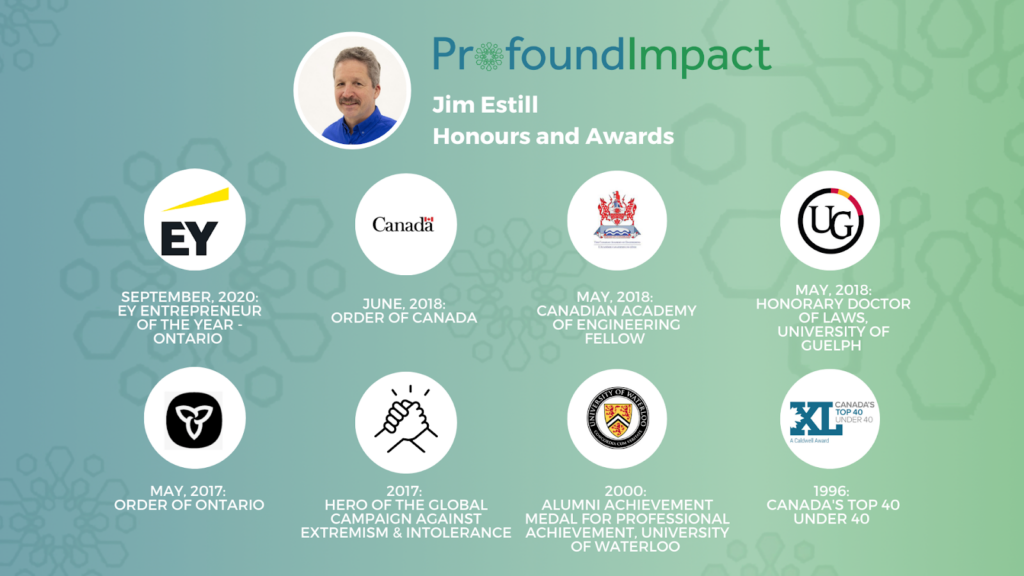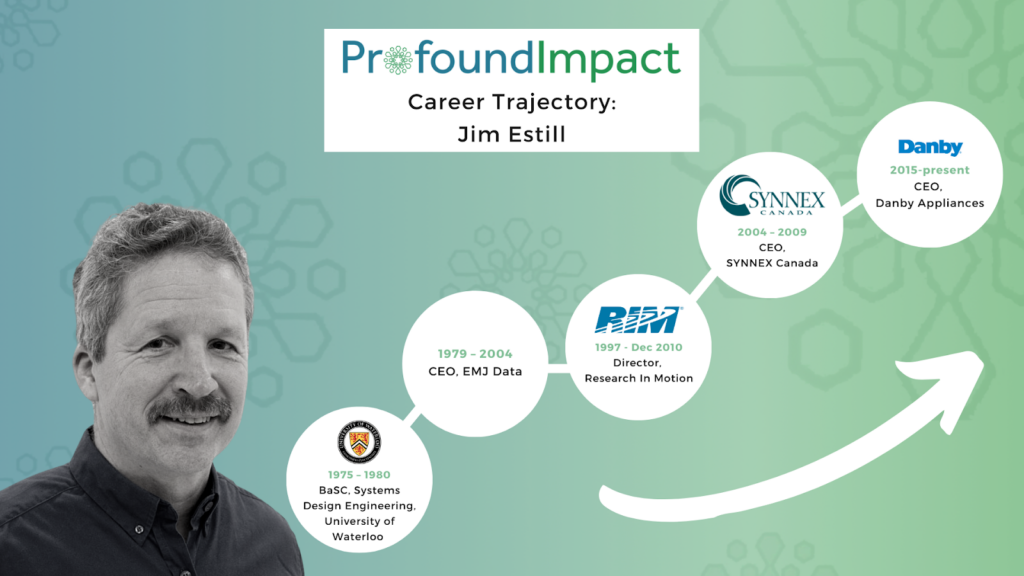 Do you have an Impact Story to share? Reach out to us at connections@profoundimpact.com for a chance to have your story featured in an upcoming newsletter!