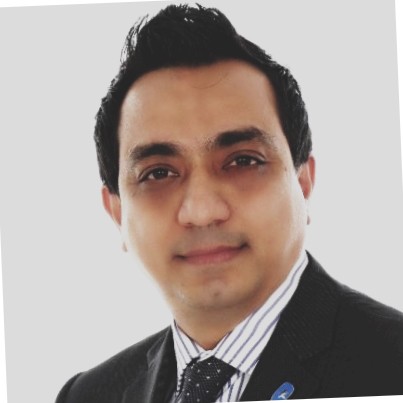 Technical Product Manager, Profound Impact Corporation
A born innovator with exceptional leadership skills, Sohail Ramzan has made his mark on the international tech community. From working with multinational software companies, Oracle partners and global multilevel marketing companies in Pakistan and the Middle-East, Sohail is now a technical program manager with Profound Impact™, leading a team that is building the company's solutions including Connection Impact, an engagement and interaction platform; Career Impact, a career trajectory tool to provide actionable insights by analysing alumni career data; and soon to be released Research Impact, a data-driven tool that assists research universities and institutions to achieve their goals of increasing the effectiveness of their research staff.
Born in Pakistan, Sohail completed his MBA at Hamdard University in 2003 before pursuing a career as a software engineer. As time passed, Sohail continued to climb the corporate ladder, becoming a software development manager and then a project manager for companies in South Asia and the Middle East. In 2016, Sohail and his family decided to immigrate to Canada, where he continued to explore opportunities to advance his tech career. Sohail joined the Profound Impact team in 2019 as Technical Program Manager, where he has been building the organization's diverse and talented workforce while inspiring product innovation.
A true advocate of career growth and team culture, Sohail brings compassion, communication and flexibility to his role, embracing a diversity of perspectives that ultimately leads to successful team outcomes. He was recently named a Timmy Award finalist for Best Tech Manager for his role in leading geographically distributed teams through unexpected challenges while inspiring performance and growth. Sohail's stewardship and expertise has contributed greatly to Profound Impact's success.
Sohail credits his family for giving him the inspiration and drive to pursue his professional goals. Sohail's son was born with spina bifida, a neural tube defect that affects the spine. Despite the physical disability, his son has thrived in Canada. He is an ambassador for WeCare Canada, an organization that provides life-changing programs and services for children and youth with physical disabilities. A true advocate for children with special needs, Sohail's son also represented Easter Seals Ontario by participating in fundraisers, radio commercials, telethons and other events to generate awareness and raise money for special needs children. His son's ability to demonstrate this type of leadership at 13 years of age inspires Sohail in his professional journey to leverage the power of technology to make a difference in the world. Sohail is working on his first book about accessibility and inclusiveness, planned to be launched in 2022.
Through his work at Profound Impact, Sohail is using his skills and expertise to lead the development of the company's products including the Connection Impact platform, which functions as a digital community helping people become aware of undiscovered relationships. Through those relationships, the platform helps to accelerate connectivity and inspire collaborative solutions to difficult global problems.
One of the most important organizational changes implemented by Sohail since joining Profound Impact was his decision to change the development model from being outsourced to being built in-house. Sohail hired his own team and began building the platform internally, which optimized performance, improved efficiency and expedited timelines. Sohail is also leading the creation of Profound Impact's visualization tools such as the academic ancestry tool, which combines private and public data using artificial intelligence to create linkages between alumni. This tool has the capability to trace back hundreds of years, demonstrating the global impact of one's educational ancestry.
Key to Sohail's success has been his ability to inspire creativity amongst his team while facilitating collaboration and communication. Sohail rallies his team to produce high quality results, while creating an environment that avoids burnout. He celebrates his team's successes, encourages career advancement through the attainment of certificates and new credentials, and frequently supports causes that his team is passionate about.
What keeps Sohail motivated is leveraging the power of data to make a difference in the world. His impact, both tangible and intangible, is quite significant. Sohail is incredibly proud of the effect he has had on younger people he has trained in the industry. Over his 18 years in software development management, Sohail has taught many people who have gone on to successful careers with multinational companies. His passion for mentorship and commitment to product innovation have made Sohail a true innovator, committed to leveraging the power of data and technology to inspire global change.
Sohail holds many technical certifications including: AWS Certified Solution Architect (CSA), Microsoft Certified Solutions Associate (MCSA), Certified Scrum Master (CSM), Project Management Professional(PMP) and PRINCE2 Practitioner.
You can view some of Sohail's accomplishments in the image below: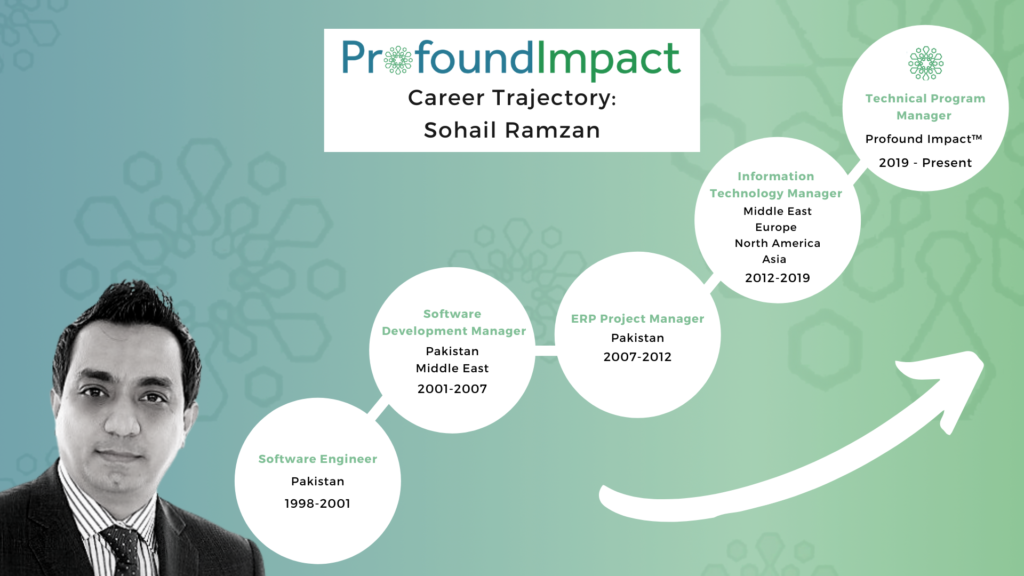 _______________
Do you have an impact story to share? Reach out to us at connections@profoundimpact.com for a chance to have your story featured in an upcoming newsletter!