Founder and CEO, Protexxa and Chair, CILAR
Claudette McGowan's first mentor was her mother, a nurse who believed strongly in the importance of caring for and helping people. "There was always someone staying with our family, whether from the church or a family member," she recalls. As a global information technology leader, entrepreneur, and mentor, Claudette puts into practice what was modelled by her mother by providing opportunities for participation, prosperity, and leadership.
A graduate of Lakehead University and Athabasca University, with certifications from Ontario Tech University, York University, Harvard, and the University of Toronto's Rotman School of Management, and an honorary doctorate from Carleton University, Claudette broke barriers as she advanced in her career. In 2020, Toronto Life recognized her as one of the city's Top 50 Most Influential Torontonians. Digital Finance Institute honoured her as one of the Top 50 Canadian Women in FinTech, and the Women's Executive Network recognized her as one of the Top 100 Most Powerful Women in Canada. In 2022, Claudette received the DMZ Woman of the Year Award and NACO, the National Angel Capital Organization, named her as a Nation Builder of the Year in Canada.
In 2022, Claudette followed a calling to become an entrepreneur and founded Protexxa, a cybersecurity platform that leverages Artificial Intelligence to rapidly identify, evaluate, predict, and resolve cyber issues. "Cybercrime has quadrupled since the pandemic" notes Claudette. "Through Protexxa, I can work with people around the world to help them assess cyber threats, train them to reduce cyber vulnerabilities and strengthen cyber capabilities."
Fundamental to all of Claudette's work is ensuring that support systems are in place for everyone, regardless of race, gender or age, in order to thrive and progress. "There are 3.5 million open cybersecurity jobs in the world, 25,000 of them in Canada. My goal is to create more cyber leaders," she said.
To this end, Claudette helped found and is currently the chair of the Coalition of Innovation Leaders Against Racism (CILAR), a group of senior Canadian business leaders committed to fighting systemic racism within the innovation economy.  CILAR was founded in 2020 to engage all people to participate in the growing innovation economy, which will soon represent half of the global GDP and workforce.  At CILAR, Claudette is one of the leaders overseeing the effort to focus on increasing access and opportunity for Black, Indigenous and People of Colour.  (BIPOC) men and women through five integrated pillars: 
Youth Development
Carve pathways for BIPOC Youth in the innovation economy through mentorships and access to programs that lead to meaningful employment.
Job Opportunities
Provide transformational employment opportunities.
Venture and Capital Support
Offer access to capital and programs to entrepreneurs seeking opportunities to grow their ideas into viable, sustainable and global platforms through BIPOC Venture Capital Funds.
Community and Leadership
Strengthen all communities by connecting Canada's established innovators with aspiring innovators.
Inclusive Innovation and Technology
Establish technology and data standards to develop innovation enablers for both consumer and business purposes.
To help women succeed in the technology industry, Claudette recently helped launch the women-focused archangel fund, Phoenix Fire. These angel-stage investment funds apply a systematic, disciplined approach to investing in women entrepreneurs across Canada. Phoenix Fire offers active portfolio management with experienced angel investors as well as access to high-potential, talented, entrepreneurial women.
When asked about the most significant point of her more than 20 years as a global information technology leader, Claudette points to her decision to leave her role as l Global Executive Officer of Cybersecurity at TD Bank to found Protexxa. "I saw a problem and an opportunity to offer solutions. I decided to go for it by building a new cyber platform and a phenomenal team. It's been the most rewarding experience of my lifetime."
Claudette McGowan has made outstanding contributions as a technology leader, mentor and entrepreneur. Her work to increase access to careers in technology across Canada for BIPOC youth and innovators and to women, to train people to create cyber capabilities, and to foster a new generation of cyber leaders truly makes a profound impact for millions of people around the globe.
You can see more of Claudette's work with CILAR and her recognitions over the years in the visualizations below.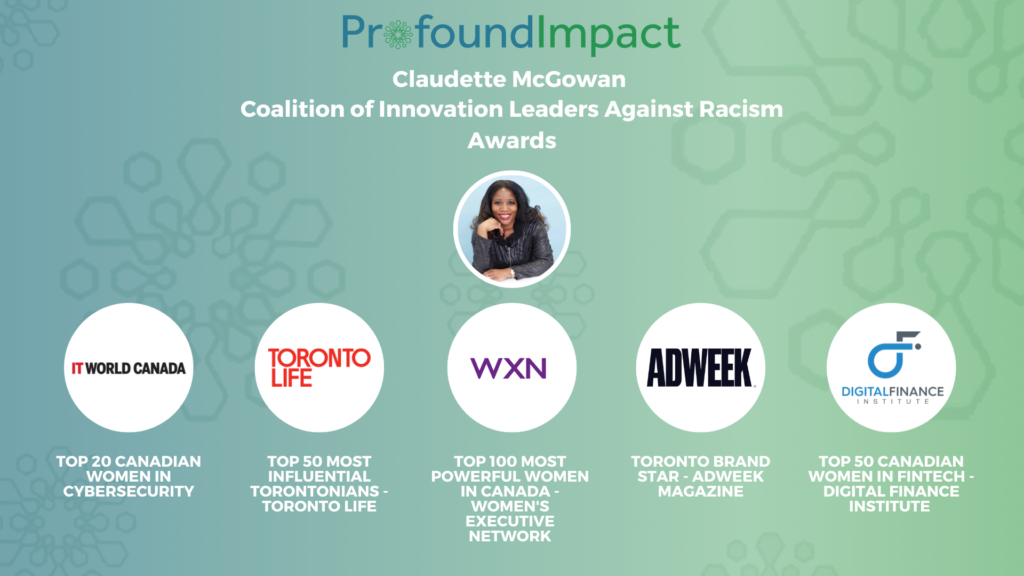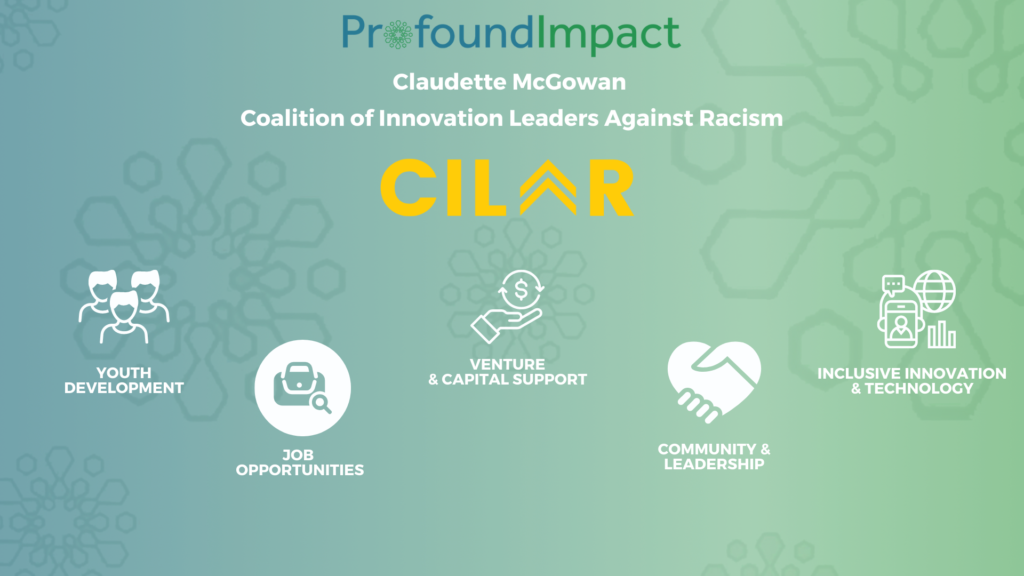 Do you have an Impact Story to share? Reach out to us at connections@profoundimpact.com for a chance to have your story featured in an upcoming newsletter!