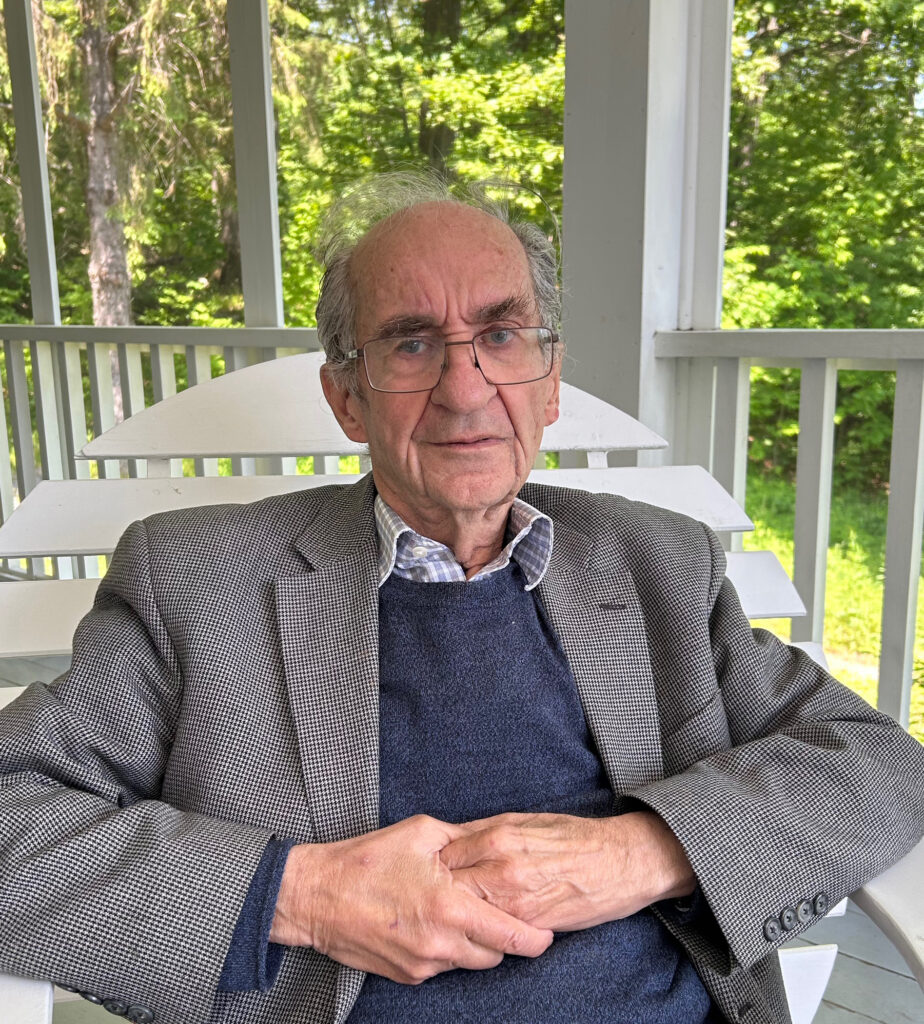 The first fully computer-animated film was not produced by a Hollywood studio but by the National Film Board of Canada. Hunger/La Faim was directed by Hungarian-born Peter Foldes using technology invented by two Canadians: Nestor Burtnyk, an electrical engineer and Dr. Marceli Wein, a physicist. Marceli's journey from WWII Poland, where he was a Holocaust hidden child, to a Los Angeles stage in 1997, where he and Burtnyk were presented with Academy Awards for technical achievement, is one that he credits to good luck and the opportunities presented to him along the way.
Marceli was born into a Jewish family in Krakow, Poland. A 4-year-old when World War II started in 1939, he and his family were forced by the Nazis to move to a walled-in ghetto. In 1943, Marceli was sent to a ghetto hospital to be treated for scarlet fever. When his father learned that the hospital would be shut down and all patients killed, he smuggled 9-year-old Marceli out in a blanket and delivered him to a woman who changed his name and hid him, first in a flat in Krakow and subsequently in Warsaw. He was later devastated to learn that his brother, Jerzy, had been shot and that the ghetto his family lived in was liquidated. Both of Marceli's parents were sent to concentration camps. Only his father survived. Marceli was raised as a Roman Catholic. He still has photos from his First Communion.
Marceli reunited with his father after the war ended and lived with him and his stepmother and step-brother in Poland and later in Germany. During this time, Marceli learned German while going to school and English by listening to the U.S Armed Forces Radio Network and through tutoring by a Polish soldier who had served in the British army.
Marceli and his family received permission to travel abroad and spent two years as refugees in Munich. Germany. "Canada accepted us", says Marceli. Another stroke of good luck, as was choosing Montreal as their new home, where they landed in 1952. Marceli finished high school there and, although his marks in English and History were poor because of his basic English language skills, his high marks in Science and Mathematics resulted in scholarships to McGill University. He graduated in 1958 with a degree in engineering physics with honours in electrical engineering.
His first job was at Marconi, where he worked with magnetrons used in rockets and radar and later designed television sets. Marceli's run of good luck continued when he went to McGill one June afternoon in 1959 to ask a friend to lunch and instead, ran into one of his physics professors who thought Marceli was there to see him. Marceli received a tour of the Stormy Weather Group and, by the end of the afternoon, was accepted into the M.Sc. program. "I accidentally became a graduate student". It was while completing his Master's and Ph.D. degrees that he worked on transferring images to film – critical to his later pioneering work in computer animation.
After completing his PhD, Marceli accepted a job as a Research Officer in computing at the National Research Council (NRC). It was here that he met colleagues Nestor Burnyk and Ken Pulfer and worked with them on interactive computer graphics, with a focus on how non-technical people worked with computers. In 1969, Burtnyk attended a conference in Los Angeles where one of the speakers was a Disney animator who suggested that computers could be used to generate the cels in between those produced by animators for use in filmmaking. Upon his return to Ottawa from the conference, Burtnyk wrote a program that generated the in-between frames for beginning and ending two-dimensional images drawn on a tablet.
Rene Jodoin from the French Animation Section of the National Film Board of Canada, who was visiting NRC, thought that this technology was suitable for a script that had been submitted by Peter Foldes, an animator in France who had submitted a script for Hunger/La Faim to the Film Board in Montreal. Foldes traveled regularly to Ottawa to collaborate with Marceli and Burtnyk and with Jodoin at the National Film Board.
Hunger/La Faim, which was about greed and gluttony, was made in 18 months, cost $38,893 ($240,747 in 2023 dollars) and was released in 1974. It became the first computer-animated movie to be nominated for an Academy Award, in the Animated Shorts category, and received many other international film awards including the Prix du Jury at the Cannes Film Festival.
Hunger/La Faim was an inspiration for a new generation of Canadian computer animators, leading to the formation of research and training programs in computer graphics and animation and new production companies across Canada and internationally. At the 1996 Festival of Computer Animation at the Ontario Science Centre, Burtnyk and Marceli were recognized for their individual contributions and were each designated as a Father of Computer Animation Technology in Canada.
Toy Story, the first computer-animated feature film, was released by Pixar Animation Studios in November 1995. Ed Catmull, then president of Pixar, nominated Burtnyk and Marceli for a Technical Academy Award to recognize the impact of their work on computer animation in the film industry. And so, two years after his retirement, Marceli and Burtnyk were called to the podium by Helen Hunt to be awarded Technical Academy Award for their pioneering roles in developing computer animation.
Although Marceli trained and worked as a scientist, his advice to young people is to learn to write in order to tell stories. "The current emphasis on STEM education neglects the need to be able to write and to communicate".
The computer animation industry and film lovers everywhere benefit from the luck and opportunities that allowed Marceli Wein to survive the Holocaust, emigrate to Canada, complete his studies at McGill, and collaborate with outstanding colleagues at the National Research Council and the National Film Board of Canada.
You can see more of Marceli's impact in the visualizations below.
Do you have an Impact Story to share? Reach out to us at connections@profoundimpact.com for a chance to have your story featured in an upcoming newsletter!