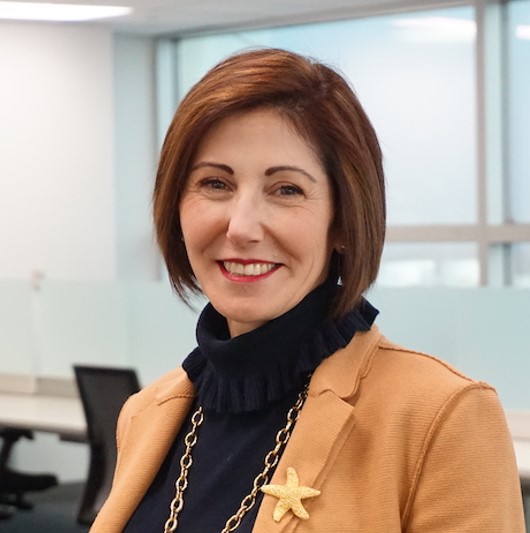 As Chief Executive Officer of the Haltech Regional Innovation Centre, the go-to strategic connector and educator for start-ups in Halton and across Ontario, Shann McGrail's job is to grow opportunities for technology innovators and entrepreneurs and to harness the immense and growing opportunities in the region. Shann's understanding of the power of partnership and mentorship was developed through her career in technology enterprise sales, where she helped companies educate customers and tell their stories.
Shann grew up in Amherstburg, Ontario, a small town outside of Windsor, as one of two daughters. Her mother always worked outside the home, providing a powerful role model for her daughters. Her father bought Bobby Orr lunchboxes for Shann and her sister and taught them to play hockey. He also encouraged them to thoughtfully and effectively express their opinions when he challenged them with statements about what women couldn't do. The communications training and professional development Shann received throughout her career sharpened these skills, leading her father to comment that she was really getting good at debate.
Shann graduated from the University of Windsor with a major in Commerce and a minor in French. Although she had no intention of starting a business – entrepreneurship was not a focus in university curricula at the time – she believed that business and commerce were good platforms for a new graduate. Shann launched her career with a position in sales at Digital Equipment Canada, a major hardware manufacturer, and soon realized that enterprise sales provided valuable training, including opportunities to understand how business works and to work and communicate with clients to solve problems and bring about innovation.
Prior to joining Haltech in 2018, Shann worked in the technology industry for over 25 years, including 17 years at Microsoft. She and a partner founded, and continue to operate Devreve, a consulting firm that works with technology companies to develop and implement strategic programs and solutions that drive business results.
But the skills that Shann brings to Haltech result from more than her business experience. When her job at Microsoft relocated her to Toronto, she found that she missed the teamwork, camaraderie and creative outlet she had experienced through her participation in community theatre in Ottawa. She enrolled in a series of improv classes, met people and participated in performances – all of which led her to appreciate the value of improv skills to business and other aspects of life. Shann notes that improv sharpens observational skills and is about empathy, listening, responding and communication with freedom from the inner self-critic. The "yes, and" premise of improv provides opportunities for business people to enter discussions with the mindset of listening to people and their ideas. And, as Shann points out, "Our job at Haltech is to make sure we find and provide the supports for our clients. Sometimes that means just listening."
With offices in Burlington and Milton, Haltech helps companies, from start-ups to large global corporations, advance their technology-based innovations to market or scale up their business. Halton Region's population and client base have both grown exponentially over the last several years. Technology companies continue to move to the region and expand. Post-secondary partners, including Sheridan College, Wilfrid Laurier University and Brock University all are established in or are in the process of expanding their campuses to Halton. This growth of client base, combined with a population that includes both young people and executives, 75% of whom have a post-secondary degree and 20% of which are STEM-based, creates immense opportunity for technology innovators and entrepreneurs.
Shann is a champion of supporting women entrepreneurs. Under her management, the percentage of women-owned businesses working with Haltech has grown from 10% to over 40%. Much of this growth is due to Shann's involvement with the Women's Entrepreneurship Strategy, run by the federal government to increase women-owned businesses' access to the financing, talent, networks and expertise they need to start up, scale up and access new markets.
Shann reflects that it was during high school that she first understood the lack of equal opportunities for women.  She can pinpoint the first time she addressed that injustice as when she challenged her French teacher, who also served as the golf coach, about the unfairness of the lack of a women's golf team at the school. He responded by creating a women's team on the spot, with Shann as the organizer. She recruited four friends to establish the team and points out that this experience taught her two important lessons:  
Don't issue a challenge unless you're willing to do something about it.
Rely on like-minded people to help make things happen.
Mentorship is a key element of Shann's work in promoting opportunities for women in business. She worked on WCT's (Women in Communications and Technology) National Mentorship Program and founded the WCT Protégé Project, Canada's only cross-sector career sponsorship program that matches influential, powerfully positioned C-suite executive champions with senior female protégés to support protégés to move into even more senior leadership positions. Shann notes, "I was lucky to have great sponsors and supporters throughout my career. I focus on women entrepreneurs to ensure that everyone can have the same opportunities."
When asked what's on the horizon, Shann points to growing and harnessing the immense opportunities in the Halton Region. Technology companies continue to locate in Halton to take advantage of proximity to key strengths in the region, including advanced manufacturing and proximity to the US border and to Pearson International Airport. In addition, 20% of Haltech's clients are located outside of Halton and have joined to work with one of the organization's programs or advisors.
Shann's advice to young people at the start of their careers is to learn to listen to and trust your gut. "Pay attention to your instincts," she says.  "They almost never are wrong." She also notes the importance of being responsible and engaged with the mentors in your life. "Don't neglect the opportunities presented to you."
When asked about measuring the success of Haltech, Shann says, "A client will tell you what you're there to do."  She points to a conversation with a client that had leveraged the services at Haltech, making it possible to expand their business, pivot and hire 20 new people. The hires were new Canadians and the jobs provided their first work experience in Canada and the opportunity to develop their language skills.  "Haltech helped connect the dots and that's changing lives."
You can see more of Shann's impact in the visualizations below.
Do you have an Impact Story to share? Reach out to us at connections@profoundimpact.com for a chance to have your story featured in an upcoming newsletter!