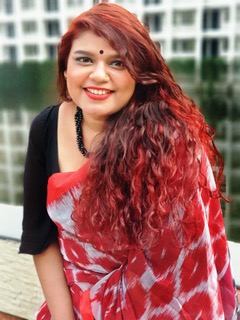 Co-Founder, Swayong
"Women's stories are universal," says Swatil Mahmud, co-founder of Swayong, a youth and women-led platform that aims to tackle social injustice through storytelling. Along with her sister, Kazi Mitul Mahmud, Swatil created Swayong to be a safe, inclusive, and constructive space for conversation and growth and where people are able to interact meaningfully with sensitive topics, breaking down inhibitions about women's issues that are often burdened with shame.
Swatil grew up in and is based in Bangladesh, where women's roles are traditionally defined by their responsibilities as wives and mothers. Her mother, a nurse, teacher and director of a masters' level nursing program, was a powerful role model for Swatil and her sister, who both travelled the world to study. Swatil has returned to Bangladesh to work as a communications and development professional and, through Swayong, to share the stories of real women and girls in order to dismantle social injustices, one story at a time.
Swayong, which translates as 'self' from the Bangla language, was founded in 2020 as a pandemic project with 11 volunteers. The platform now boasts a team of 65, referred to as Swayong Warriors, who fight gender-based social injustice.
The first stories shared by Swayong were those of frontline healthcare workers, hospital staff, aid workers and journalists during COVID-19. The platform provided, and continues to provide, a safe and inclusive space for women of all ages and from all walks of life, including people with disabilities, transwomen, indigenous women, gender-diverse folks and other marginalized communities. Swayong has reached over 850,000 people in almost all the major cities in Bangladesh and also communicates through their website www.swayong.org and via Facebook, Instagram and LinkedIn.
Since its inception, Swayong has run 23 campaigns on issues such as body positivity, curtailed bodily autonomy, sexual harassment in public places, child abuse, transgender awareness and parental leave. Campaign topics, which are not limited to women's issues, all feature factual information and data illustrated by personal stories. Swayong also produces Angur Fol Tok (Grapes are sour), a live talk livestreamed on Facebook, where eminent activists and experts come together to talk about issues related to social injustice and taboo and "shameful" topics.
Under Swatil's leadership, Swayong organized a feminist storytelling festival to promote sensitization to feminist, sexuality, and marginalization issues through panel discussions, storytelling and cultural performances. As part of the festival, members of feminist groups, LGBTQIA communities and transgender rights activists were invited to be "human books" to create a feminist human library. Swatil also produced Swayong's feminist documentary Jongla phul (Wild Flower) to showcase diverse women who, like wildflowers, survive despite adversity.
All of Swatil's work aims to create public awareness and a sense of community and to influence national policy formulation and reform. She serves as a mentor and guide, collaborating with other young feminists to expand the impact of her work and to ensure a larger reach of her advocacy initiatives. She is one of the founding members of Feminists Across Generations, an intergenerational feminist alliance that brings together activists and other individuals to stand up against gender-based violence and abuse against women. As part of her feminist advocacy and activism, Swatil mobilizes and leads activities like protests and flash mobs to raise awareness about gender inequality and violence against women.
Collaboration is essential to the success of Swatil's work and Swayong frequently collaborates with organizations working on social justice issues to launch joint campaigns and projects. Swayong has conducted events and campaigns featuring storytelling as a tool for change that have been funded by the United Nations Development Programme, the Manusher Jonno Foundation, UK Aid, and Global Affairs Canada.
Swatil believes youth must be included in the solution to achieve gender equality and wants young people to be a testament to the power of the collective. Her advice to young women who wish to make meaningful change is "Be fearless and never underestimate the power of a storyteller!"
You can learn more about Swatil's work and Swayong in the visualizations below.
Do you have an Impact Story to share? Reach out to us at connections@profoundimpact.com for a chance to have your story featured in an upcoming newsletter!