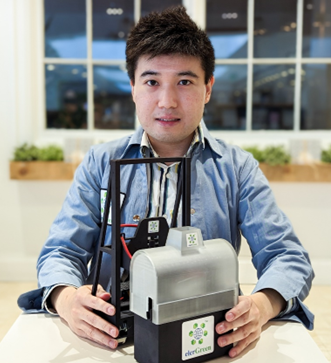 2023 Impactful Actions Award Winner – Young Leader
As record temperatures were set in the northern hemisphere during the summer of 2023, people in locations as diverse as Canada, Europe and Hawaii experienced the severe effects of climate change in the form of ocean storms, wildfires, floods and droughts. For Hui Huang Hoe, this was not a new phenomenon. He had experienced the effects of climate change while growing up in Malaysia as ever-rising temperatures and extreme weather fluctuations resulted in floods and droughts. Hui Huang moved to Canada to attend the University of Toronto, and, in part, to escape the heat of Southeast Asia.
Hui Huang was inspired at an early age to study science after reading Stephen Hawking's book, The Universe in a Nutshell. He went on to exhibit a keen interest and talent in science and math during high school, where he won the national Physics and Chemistry Olympiads Championships. Motivated by this success, he decided to pursue a career in chemical engineering, with a focus on sustainable energy and environmental engineering. He was awarded a scholarship to study in Canada and enrolled in the Chemical Engineering program at the University of Toronto, where he earned an undergraduate degree with High Honours as the top student in his class, venerated by the Society of Chemical Industry Merit Award.
Hui Huang considers himself lucky to have received exposure to research in the summer following his first year of study, through his award-winning work on energy-efficient fuel with Professor Ya-Huei (Cathy) Chin, now a Canada Research Chair. In his third year, he was granted a senior fellowship to work with Professor Donald W. Kirk, another of his mentors, on carbon-free zinc-air fuel cell research. Hui Huang produced an award-winning thesis (such as Mackay Hewer Memorial Prize, as the best chemical engineering thesis related to environmental studies) on converting carbon dioxide into fuels powered by renewable electricity. As part of his graduate research work, the carbon dioxide conversion was expanded beyond fuels into useful products. The University of Toronto recognized Hui Huang's work with numerous awards and filed a patent, Electrochemical Carbon Dioxide Utilization, related to his research.
Hui Huang went on to establish elerGreen, a cleantech start-up company that addresses waste remediation through the recovery of polymers, metals and chemicals from waste and renewable electricity in an economical and eco-friendly way. For elerGreen's key differentiator, he invented and patented a unique electrochemical reactor of moving electrodes against stationary blades to continuously harvest solid products. Interestingly, he conceived elerGreen moving electrode reactor with an Eureka moment while exercising on a treadmill!
elerGreen moving electrode reactor facilitates the conversion of pollutants, including tailings and petrochemical waste, into valuable metals, polymers and feedstocks, powered by renewable electricity. As a result, elerGreen converts CO2 or its derivatives into useful products, while replacing fossil fuel combustion in chemical or manufacturing plants, which is more energy-efficient. In layman's terms, elerGreen cleantech is like Tesla's electric vehicle, but for chemical or manufacturing plants.
Hui Huang's leadership extends far beyond his work in cleantech. In addition to being a serial inventor in green electrochemistry, Hui Huang has been recognized for teaching excellence and for his work coaching students. He also wrote and published Mathematica Particularis, a book on engineering mathematics that is offered free of charge to students.
Hui Huang believes strongly in giving back to the community. In 2022, elerGreen partnered with Venture for Canada (VFC) to collaborate on the VFC Intrapreneurship Program, an experience offered to foster Canadian youth entrepreneurship and innovation. As part of this program, he coaches students, teaching them about clean technologies, educating them on intellectual property protection and making them aware of the importance of corporate social responsibility.
elerGreen also actively participates in climate change planning, management and governance, as a policy recommendation signatory for Canada's federal budget on cleantech and climate action. Beyond cleantech, elerGreen employs business model innovation as collaborative sales, to empower the community with cost-sharing and joint-IP protection.
elerGreen's community impact was recognized in 2022 as it was named one of the four semi-finalists by the Innovators and Entrepreneurs Foundation (IEF) for the Canada Innovation & Entrepreneurship (CANIE) Awards, in the category of Climate-Related Product Innovator of the Year.
elerGreen's impact also goes globally beyond Canada, recognized by Hub de Innovación Minera del Perú (Mining Innovation Hub of Peru) as PERUMIN Finalist in the category of Environment and Sustainability category, for meeting various UN Sustainable Development Goals (SDGs) on converting heavy metals tailings into saleable solid metals as a Canadian corporation.
In June of 2023, elerGreen was named as one of 21 companies by Innovation Guelph to receive cleantech grants totaling $630,000 through the Government of Canada-supported i.d.e.a. Fund, an initiative to help clean growth firms in southern Ontario to develop or redesign green products, services, process and technologies and to create made-in-Canada climate change solutions. elerGreen is using these funds to collaborate with students at St. Lawrence College to establish a full-scale reactor, now further being upgraded into a pilot plant.
Hui Huang works to integrate elerGreen's core principles of profitability and sustainability while contributing to society by developing cleantech technology and expertise and shifting the mindset of how society supports the cleantech sector. To support these goals, elerGreen has become a certified Ontario Made company and a member of Ontario Clean Technology Industry Association. "What we do at elerGreen can be summed up as Electrification Done Green," Hui Huang says.
Hui Huang Hoe's passion and success as a researcher, inventor and founder, his ongoing work to develop the next generation of cleantech entrepreneurs through his coaching and teaching and elerGreen's commitment to equity, accessibility and inclusion for underrepresented people and newcomers to Canada truly make him a young leader deserving of the 2023 Impactful Action Award.
Finally, the Impactful Action Award comes with a donation by Profound Impact to a charity, and Hui Huang Hoe and elerGreen have nominated Parkdale Centre for Innovation. This donation to Parkdale Centre for Innovation would further support public awareness and social entrepreneurship on equity, accessibility, and inclusion for underrepresented people, including women, Black, Indigenous, people of color, and newcomers to Canada.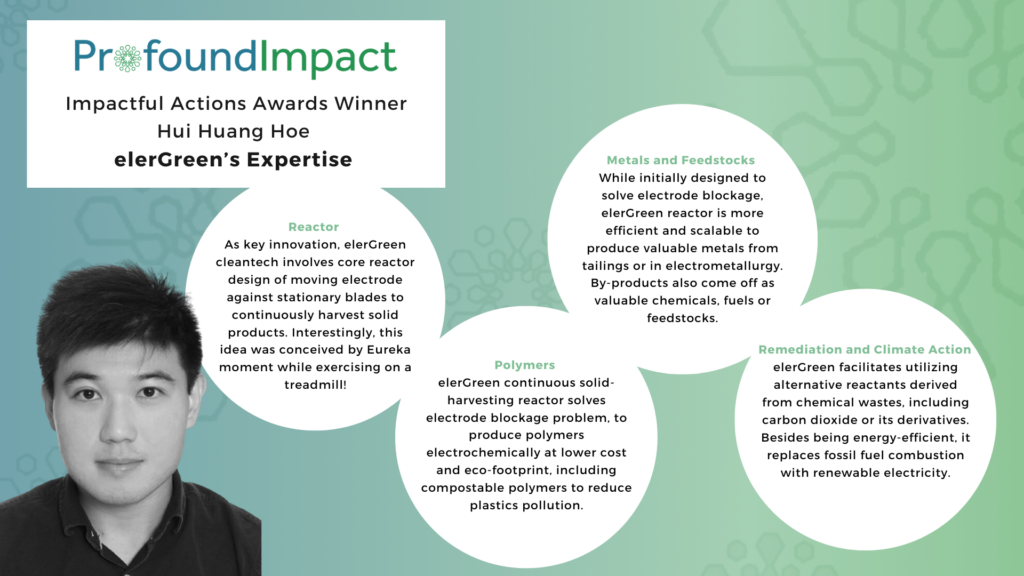 Do you have an Impact Story to share? Reach out to us at connections@profoundimpact.com for a chance to have your story featured in an upcoming newsletter!