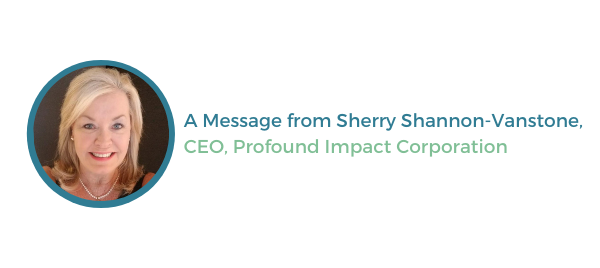 Happy holidays and welcome to the December edition of Profound Connections!
I hope that you all have enjoyed being a part of the Profound Impact™ community this year and have benefitted from our regular Profound Connections newsletters.
The season of giving has arrived — and with it, we are reminded of the importance of giving back to our local communities. This is an opportunity for all of us — whether it be through donating our time, in-kind items or funds — to give back to those in need. Our team believes deeply that encouraging small acts of generosity can have big impacts on those who experience undue hardship. Read on to learn more about how we have chosen to make an impact this giving season.
Building on the global #GivingTuesday movement, we launched Profound Impact's 12 Days of Impact campaign on November 30, designed to encourage people and organizations to contribute their time, resources and talents to help address local challenges. For the last 12 week days, our team has committed to daily challenges that focus on spreading the giving spirit.
Further, our team has been running a special 12 Days of Impact giveaway on our social channels. For every entry (like, comment, share or follow) that our 12 Days of Impact Instagram giveaway receives from November 30, 2021 – December 15, 2021, Profound Impact will commit a $1 donation to Actua Canada — Canada's largest STEM outreach organization preparing youth to be innovators and leaders.
As our campaign wraps up later today, we will be announcing shortly the final amount that will be donated to Actua Canada as a result of our community's engagement.
Before we draw 2021 to a close, we challenge you to do something that will make a difference in your community. Download our 12 Days of Impact calendar here and participate in our daily challenges at any point using the hashtag #12DaysOfImpact!
Thank you for your continued engagement and your ongoing support. From our team to yours, we wish you a safe and happy holiday season.
Warmest regards,
Sherry Shannon-Vanstone