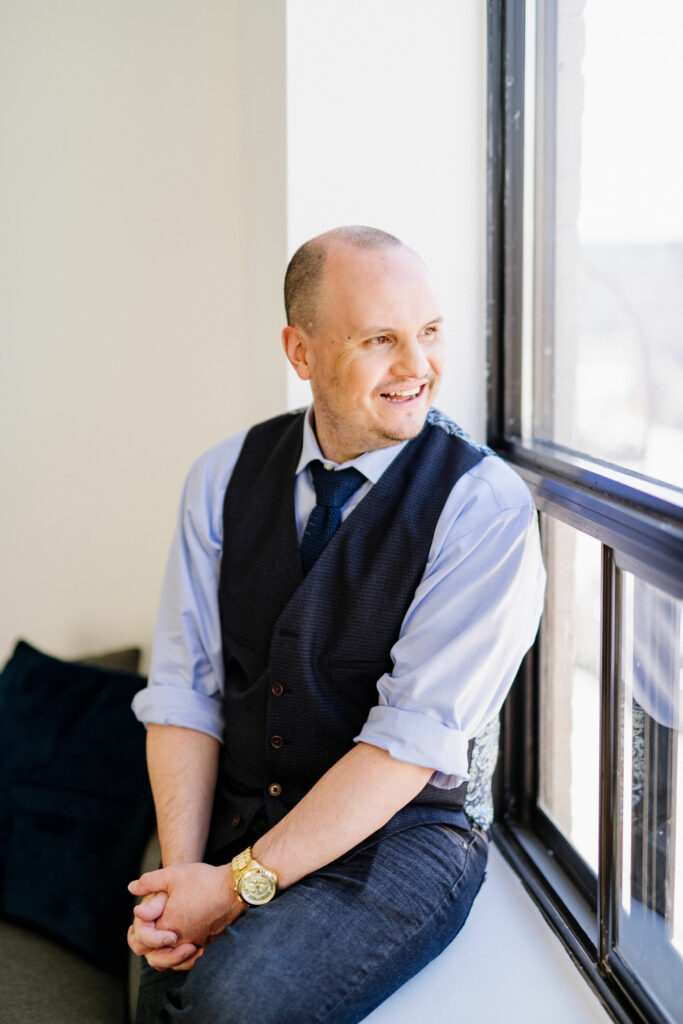 2023 Impactful Actions Award Winner – Lifetime Achievement
"Community is my energy. It's my fuel. It invigorates and inspires me," says Mike Farwell, a relentless community builder who turned the grief of losing two sisters to cystic fibrosis (CF) into the largest annual fundraiser for Cystic Fibrosis Canada. The 2023 Impactful Action Award Lifetime Achievement Award winner's Farwell4Hire campaign has raised over $1.25 million in unrestricted funds over the last decade, supporting research, advocacy, and clinical care for people around the world living with CF, the most common fatal genetic disease in Canada.
Mike was born in Kitchener, Ontario as the middle of five children. He aspired to be a radio announcer, but not believing that this was a real job, he attended the University of Waterloo, earned a degree in Arts and went on to teach high school. "After one year as a teacher, I decided that this wasn't the job for me," says Mike. He enrolled in Conestoga College's television and radio broadcast program and graduated with two career ambitions: to work as a radio music DJ and as a hockey announcer. He began his radio career in Salmon Arm, British Columbia, where he was a music DJ and also had the chance to report on the local hockey team. Mike moved from Salmon Arm to work in communities across Canada for several years before returning to the Waterloo Region.
Mike's second dream job, as a hockey reporter and announcer, came about as the result of responding to an open casting call by Rogers for a daytime talk show host position in Kitchener. The casting director noticed that Mike had listed experience in sports reporting on his resume. "We need a sports guy," she told him. Within a week, he was on camera for the first time as a field reporter for university sports including football, basketball, and volleyball. Mike now has more than 20 years of radio and television broadcasting experience, works with Rogers Radio in Kitchener as the host of the Mike Farwell Show, and is the play-by-play voice of the Kitchener Rangers on CityNews 570.
Mike created Farwell4Hire to honour Luanne and Sheri Farwell, the two sisters he and his family lost to CF. Luanne died in the fall of 1993 at the age of 24 and, just nine months later, Sheri succumbed to cystic fibrosis at the age of 18. "Farwell4Hire was started by accident," says Mike. "I'm really bad at asking for things. I'd rather do." Prior to launching the campaign, Mike had raised money through stunts, including jumping out of an airplane, sitting in (and getting wet) in a dunk tank and participating in a boxing match. The odd jobs Mike has performed as part of Farwell4Hire have ranged from the routine, like washing windows and mowing lawns, to the more exotic, like cleaning a horse's sheath.
Farwell4Hire is an excellent example of community collaboration. Small business owners, associations and larger companies across Waterloo Region come together each May in support of Mike's efforts. The campaign is a fundraiser with absolutely no overhead. Managed entirely through the efforts of volunteers, every dollar donated to Farwell4Hire is a dollar donated directly to CF.
When asked how he finds the time to write, produce, execute and edit his daily radio show, travel with the Kitchener Rangers to do play-by-playing reporting on their games, and run an annual month-long fundraising campaign, Mike again points to the importance of community to his life. He quotes fellow Waterloo Region broadcaster and public speaker, Neil Aitchison: "Community service is the rent you pay for the space you occupy." Mike continues, "I don't think I could possibly give back to the community what it has given to me."
Mike is delighted with the ongoing progress in CF research and with how the $1.25 million raised for research through Farwell4Hire has contributed to massive impacts in extending the lives of Canadians living with CF. When Mike started fundraising as a teenager, the estimated lifespan of a child with CF was less than 12 years. In 2023, a baby born with CF today has a median life expectancy of 57 years. And Trikafta, a new drug with the potential to treat up to 90% of Canadians with CF, doesn't just treat symptoms. This transformational treatment targets the basic defect from specific genetic mutations that cause the disease.
Mike was struck by a statement made by Roberto Clemente, the late National Baseball Hall of Famer who has an award for sportsmanship and community involvement named for him in recognition of his charity work in Latin American and Caribbean countries during the off-seasons. "Roberto said that a person who can help others and fails to do so has wasted his life. I don't want to waste my life. I want to help if I can. And the work I do is the way I can do my part," Mike adds.
Profound Impact is proud to present the 2023 Lifetime Achievement Impactful Action Award to Mike Farwell, a remarkable leader who has worked tirelessly to build community and to raise funds for Cystic Fibrosis research, impacting lives in the Waterloo Region and around the world.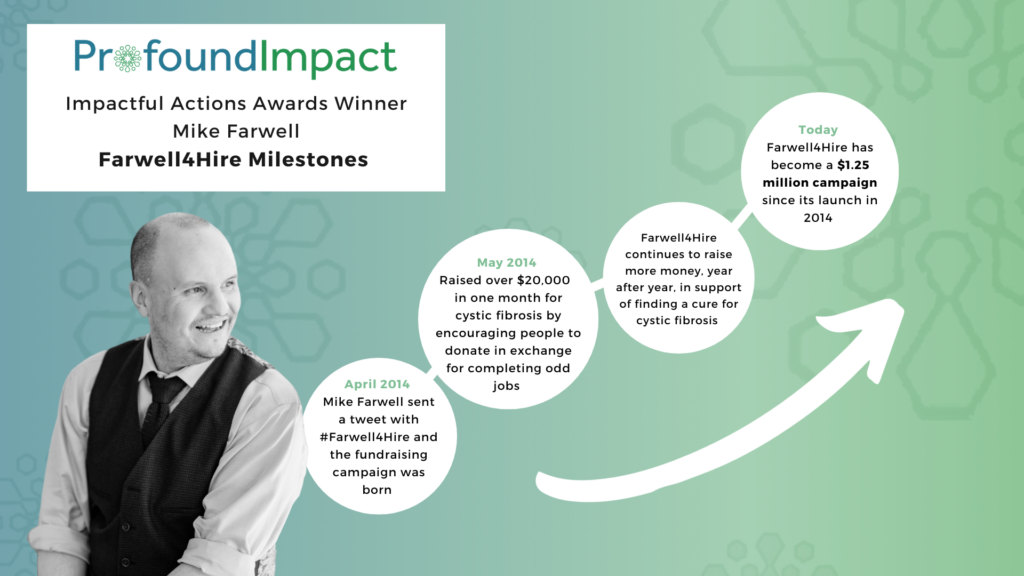 Do you have an Impact Story to share? Reach out to us at connections@profoundimpact.com for a chance to have your story featured in an upcoming newsletter!