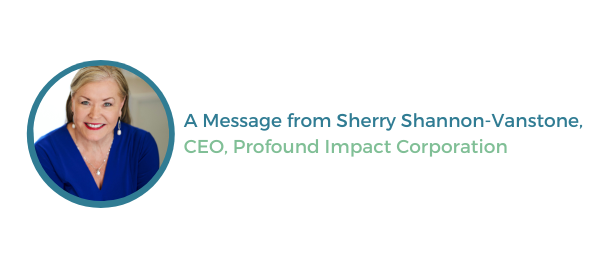 With the introduction of a new product, the announcement of this year's Impactful Actions Award, connecting with you through our newsletter, podcasts and participation in conferences, 2022 has been an eventful year for Profound Impact – one that we reflect on with pride. Our newsletter this month offers a reflection on highlights from 2022, introduces a new story of impact featuring Claudette McGowan, and explains how you can get involved in our 2nd annual giving campaign – the 12 Days of Impact.
In a recent team meeting, we revisited our mission statement: Connecting great people to do great things. In the 4+ years I have led Profound Impact, there has been plenty of change in the evolution of our products and the business itself, but our mission statement still holds true – it's what guides our work daily and rallies our team towards results. Our mission has grown and evolved with us, which is a testament to its strength. Led by our mission, we approach 2023 with great energy on our path to create connection and profound impact.
To the Profound Impact team and all members of our growing community, thank you for your support and engagement throughout the past year. We look forward to presenting the exciting initiatives Profound Impact has planned for 2023, including a new section in our newsletter focusing on ground-breaking researchers and research programs and new ways to connect great people to do great things.
All the best in the remaining weeks of 2022!
Sherry Shannon-Vanstone