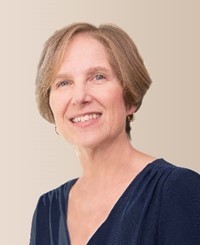 Chair of the Board, University of Waterloo
A dedicated team builder with a passion for data and analytics, Cindy Forbes has cemented her legacy as an innovator and strategic thinker, challenging the status quo to facilitate growth in all facets of her professional life. Before retiring last year, Forbes was the first female Chief Actuary at Manulife Financial, tasked with leading a global actuarial team responsible for ensuring the financial stability of the company. She was also the company's first female Chief Financial Officer for Manulife Asia, leading the finance, risk management and actuarial functions across 11 countries.
"I always want to make a positive impact, meaning that I want to leave the department or the organization better than I found it," she said.
From digitization to integration of data and analytics into Manulife's operations, Forbes was an invaluable asset to the modernization of Canada's largest insurance company. She initiated a project to move the company's valuation into the cloud – a first among insurance companies in Canada. The same project rewrote Manulife's liability valuation systems to reduce the amount of manual work required by actuaries, significantly improving quality control over the valuation of the companies liabilities, which at the time were close to $300-billion. Forbes also built the company's global artificial intelligence and advanced analytics function from the ground up. Within four years, that "function" has become a global organization of over 200 people responsible for building and embedding advanced analytics models into the business, delivering insights and driving financial impact.
Forbes' motivation for her work stems from a number of factors, including her desire for continuous improvement, as well as her commitment to mentorship for young professionals.
"I like to help young professionals achieve their potential, be a positive role model, coach them, remove obstacles, show them how to get things done," she said. "Largely it's about creating a high performance team – a team that pulls together, that's based on trust, and can make the very difficult look quite easy."
Many of the talented team members she has hired have been students from the University of Waterloo, where Forbes obtained her Math degree, specializing in actuarial science. Forbes was in the co-op program, which allows students to gain paid work experience, completing six work terms during her five years at Waterloo. She credits the program for providing the necessary professional experience to help her find a job in the field post-graduation and to make more intelligent, informed career decisions.
"It really sets you up for success in terms of learning about the workplace and putting into focus what you were learning at school," she said.
Forbes remains a fervent supporter of the University of Waterloo, having served as Chair of the Board since May 2017. In her role as board chair, Forbes successfully led the recruitment of a new President for the University, engaging a large group of external governors, faculty, staff and students. She is currently leading a review of the university's governance framework, identifying opportunities for the board to be more effective and have greater impact and oversight of the university's strategic planning.
In addition to her role as board chair at the University of Waterloo, Forbes also serves on the Ontario Teachers Pension Plan Board. She additionally held the role of Special Advisor to the Premier of Ontario from February to January 2022, providing advice and guidance on creating more digital, responsive and flexible public services. This includes the digitization of court proceedings and enabling on-line renewal of drivers licenses and health cards.
A natural innovator and life-long learner, Forbes remains highly attuned to global, economic and technological trends that will impact businesses and corporations worldwide. The pandemic accelerated trends that were already in place in terms of digitization, use of data to customize experiences and growing concerns about the implications of the same. Her prediction is that the acceleration of these trends will continue against a backdrop of growing geo-political tensions.
"It is going to be interesting to see how this all plays out and how global corporations navigate the changes ahead," she said.
You can view some of Forbes' accomplishments in the images below: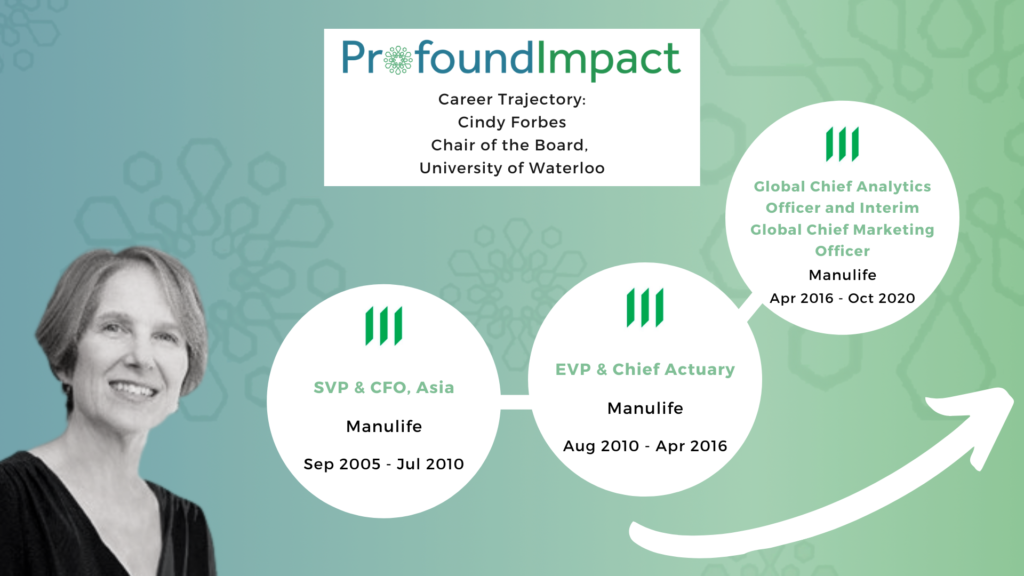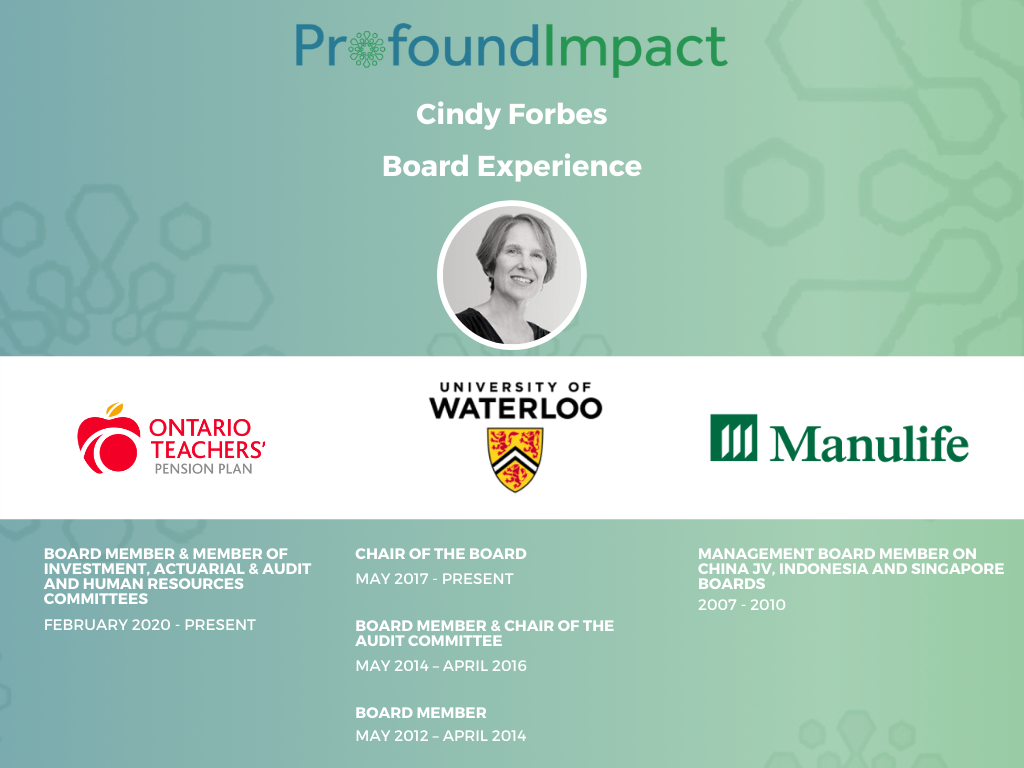 _______________
Do you have an impact story to share? Reach out to us at connections@profoundimpact.com for a chance to have your story featured in an upcoming newsletter!