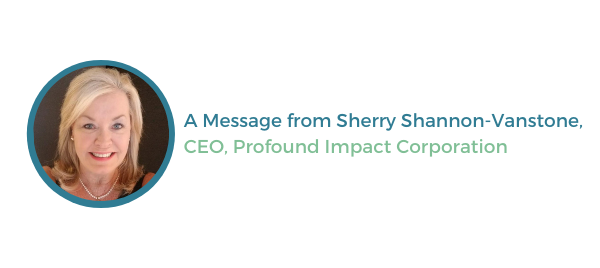 Happy New Year and welcome to the first 2022 edition of Profound Connections!
I hope that you all had a restful holiday season. With a new year underway, the team here at Profound Impact™ can't wait to share with you what we have planned for 2022 but before we do that…let's look back at 2021.
To close out 2021, our team launched a new initiative: 12 Days of Impact, designed to encourage people and organizations to contribute their time, resources and talents to help address local challenges. Our 12 Days of Impact calendar outlined daily challenges that focused on spreading the giving spirit during the holiday season. Not only did our team members at Profound Impact contribute to these daily challenges, but as an organization, we took it one step further.
Through our efforts, we were able to give back to organizations doing vital work in our greater community. Additionally, based on the social media engagement and votes of our followers, Profound Impact was able to support Actua, Canada's largest STEM outreach organization. Profound Impact's contribution will support the delivery of impactful hands-on science, technology, engineering and math (STEM) experience to youth across Canada. Many youth including Indigenous youth, girls, and at-risk youth face barriers that prevent access to education opportunities. Through Actua's national inclusion and diversity programs, they are hard at work to remove these barriers.
Now on to 2022…coming in March is International Women's Day (IWD) 2022 with the theme #BreakTheBias. We are thrilled to once again be working with the Women in Communications and Technology Waterloo Region Chapter (WCT WR) and 18 other organizations representing this vibrant community to present during the month of March several IWD 2022 events and amplify over 10 other events in celebration of women in the Waterloo Region.
For more information on this event and additional exciting news from our team, read on and enjoy this edition of Profound Connections!
Warmest regards,
Sherry Shannon-Vanstone