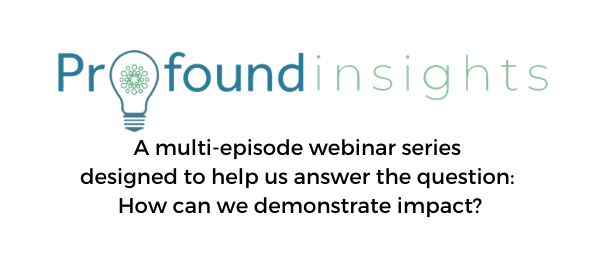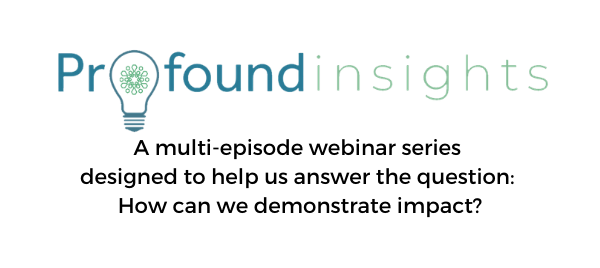 Profound Impact launched its new webinar series, Profound Insights, in November 2020 with a two-part case study on how Perimeter Institute for Theoretical Physics is working to successfully align its alumni engagement strategy with the overall institutional strategic plan using the Profound Impact platform. Perimeter Institute is a leading centre for scientific research, training, and educational outreach in foundational theoretical physics. Perimeter also trains the next generation of physicists through innovative programs and has a worldwide base of alumni and friends. Perimeter Institute is working to strategically engage those alumni and to explore Profound Impact as an effective tool to help them measure the collective impact of alumni on physics research.
The inaugural two episodes of Profound Insights featured participation by Perimeter Institute advancement, alumni and marketing staff and Profound Impact's fundraising and alumni strategist, Barney Ellis-Perry. The Perimeter team worked with Barney through the process to draft goals and objectives with the institute's Alumni Taskforce in order to align a new alumni and friends strategy with their overall strategic plan, to draft a strategy execution roadmap, and to map that roadmap against technology platforms.
Key to the success of Perimeter's work was the institute's use of Profound Impact's Self-Assessment Tool, which enables organizations to evaluate and implement strategic drivers for constituent engagement. Identification of those drivers, combined with follow-up work with Barney Ellis-Perry, resulted in a strategy implementation road map and timeline. An integral element of that road map is use of the Profound Impact platform to engage with alumni and friends via targeted communications, connections and affinity groups, reunions, lifelong learning and events, and career support and mentoring.
Do your strategies for engaging with alumni align with your institution's strategic plan? Do you have an implementation plan in place to effectively communicate with your alumni and provide new ways of digital engagement? You can access Profound Impact's Self-Assessment tool at no charge and watch the two-part episode Connecting Forward: Leveraging your Institution's Strategic Objectives to Drive Alumni Engagement.
And be sure to follow the Profound Insights webinar series for monthly episodes on topics of importance to academic, research and technology focused organizations.Webinar topics cover a wide range of subjects, all relating to practical tips and information about making connections with your stakeholders and facilitating engagement including proven methods to facilitate alumni and faculty engagement, how to share information while addressing privacy concerns, and success stories that show the impact of individuals and organizations on each other and on the world.
found Insights webinars are offered monthly on the last Tuesday of the month at 12 noon EST. Our next webinar on January 27th, 2021 will be a discussion and demonstration of how the Faculty of Mathematics at the University of Waterloo is using the Profound Impact platform to strategically pivot from hosting in-person events to offering meaningful online experiences. Please join us for Realtime Pivot and Connecting the Dots for Multifaceted, Engaging Virtual Events at Scale: A University of Waterloo Faculty of Mathematics Case Study, featuring Candace Harrington, Director of Advancement, Faculty of Mathematics, University of Waterloo.